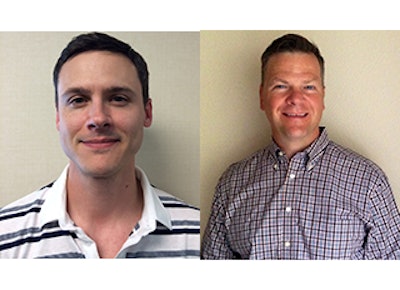 When it comes to packaging seafood, there may indeed be a lot of fish in the sea, but sometimes there's only a short time to catch them. Nowhere is this truer than in the salmon industry, which gives fishermen and canneries just over two months to catch and package the fish. Another challenge is that when the fish leaves the canneries, the packaging needs to offer both product protection and shelf differentiation.  
We spoke with John Schurman, Senior Manager of Technical Service, and Eric Weiss, Regional Sales Manager, at CROWN Food Packaging North America, a business unit of Crown Holdings, Inc. (Crown) (www.crowncork.com), about how metal packaging suppliers support canneries in this fast-paced industry.  
Q: Can you provide a brief overview of the North American salmon canning industry?
Weiss: The majority of canneries are based in Alaska and British Columbia. The salmon industry is considered 'high risk' because the timing and yield of any catch is outside the industry's control. It's completely up to Mother Nature. To help forecast the harvest each year, the Alaska Department of Fish and Game distributes Run Forecasts and Harvest Projections in January. Then in February, the University of Washington releases a follow-up report with revised data.
Not only do fisheries need to pay attention to these forecasts, but packaging providers like Crown must similarly stay abreast of the latest projections so that we have ample packaging supplies available for the entire season. The North American salmon canning season runs from mid-June through August and a single cannery may process up to 1 million cans of fish per day during that time. Since canneries have such a short window of time to fill the cans, they need sufficient supply of cans right from the get-go. With such fast and furious seasons, canneries do not have the luxury of time to order additional packaging materials should they run out of their initial supply.
Q: What are some of the challenges associated with packaging salmon?
Schurman: The industry is extremely conscious about container integrity. After a botulism scare in the early 1980s, the industry has closely monitored the quality of cans and ends they use.  For example, the Seafood Products Association (SPA) administers the Salmon Control Plan, which is a voluntary cooperative agreement between member salmon canners, the Food and Drug Administration (FDA) and the SPA. Updated on an annual basis, the Salmon Control Plan provides additional requirements for the inspection of empty containers before filling as well as inspection of the final product before labeling and distribution.
Weiss: Along those same lines, packaging suppliers often act as consultants to brands, assisting them to meet quality guidelines. For this reason, Crown is highly knowledgeable on safety regulations to support brands' efforts to increase consumer safety. As mentioned before, the short packaging window creates little time to spare. Should any container integrity issues arise, it is critical to have expert support – and with resources locally available - to respond in a timely manner. 
Q: What benefits does metal packaging offer to the salmon industry?
Weiss: Compared to alternative packaging formats, cans offer distinct advantages. Metal packaging does not require a cold chain from storage to transportation to retail shelves, which reduces costs. In addition, cans are structurally durable and highly resistant to damage, which not only enhances product protection but also helps brands avoid material and product waste.
Schurman: Cans also have an unprecedented safety record. The high-heat canning process is one of the safest because it prevents the growth of microorganisms that cause foodborne illnesses. Industry data shows that canned fish retains its nutritional value, making it comparable to freshly cooked seafood. For example, 100 percent of the protein is preserved during the canning process, while a few canned fish varieties actually have more calcium than their fresh-cooked varieties [1]. With metal packaging's barrier properties and hermetic seal, it also offers 100 percent protection against oxygen, light, moisture and other contaminants, further locking in nutritional value and product protection. Canned goods are also the most tamper-resistant food packaging option currently available. 
Schurman: With consumer emphasis on sustainability greater than ever, another benefit is that metal is 100% and infinitely recyclable, as well as a permanent resource. In other words, steel and aluminum never need to be downgraded to less demanding uses after recycling. In addition, cans are easily recycled via curbside collection or through drop-off recycling programs, which addresses consumer demands of both sustainability and convenience.
Weiss: Additionally, cans have a 360-degree billboard space, which helps brands connect with consumers at the point of sale. This provides a platform for high-end graphics for special promotions or to enhance premium perception, as well as to highlight nutritional information. Even a simple change in packaging design can help create a distinctive brand identity that builds consumer loyalty. 
Q: How does Crown partner with and support salmon packers?
Weiss: First off, location, location, location. Because Alaska has 34,000 miles of coastline, Crown primarily serves canneries from its location in Seattle, Washington, which enables us to respond quickly whenever needed. Delivery time of packaging can take three to 30 days, depending on the location of the cannery. Ultimately, this helps create efficiencies in the supply chain. The Seattle location also has expert technicians available for on-site assistance with equipment maintenance, service and support.
Schurman: Additionally, Crown partners with canneries to provide the right solutions for their needs. For example, to meet changing market demands, Crown offers five different can sizes, ranging from 4-ounce up to 15-ounces to meet consumer needs of both single-serve and larger portions.
Weiss:  In the spirit of innovation and shelf differentiation, Crown continues to bring new solutions to market, keeping customers ahead of the competition. Salmon is considered a higher-end product, so the packaging needs to convey this image. For example, Crown collaborated with a customer to create a black laminate can design, where the color and texture gave the product a specialty and premium look.
Weiss: Crown also worked with another customer to develop a new, smaller can size (307x106) for their tinned salmon. This smaller tin, which mirrors the size of standard tuna cans, was intended not only to differentiate the customer's offerings from other salmon brands on store shelves, but also to more aggressively compete with other fish options and attract consumers who would be willing to spend a bit more on a more premium item. 
About Crown Holdings, Inc.
Crown Holdings, Inc., through its subsidiaries, is a leading supplier of packaging products to consumer marketing companies around the world. World headquarters are located in Philadelphia, PA. For more information, visit www.crowncork.com.