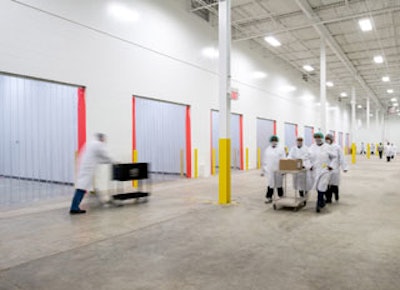 Food safety has garnered national attention in the wake of the sequester cuts that took effect on March 1, 2013. The automatic spending cuts affect numerous government agencies, including the FDA, which is responsible for regulating approximately 80 percent of all food sold in the United States1.
Food safety and quality also made national headlines when President Barack Obama signed the Food Safety Modernization Act (FSMA) on January 4, 2011. The act is the largest food safety reform in more than 70 years. The act seeks to shift the FDA's focus from responding to contamination after it occurs to preventing it before consumers are in danger2, but it requires heavy regulation and extensive funding.
Much of the heightened focus on food safety is in response to the high number of foodborne illnesses that occur each year in the U.S. Currently, the Centers for Disease Control (CDC) estimates that each year approximately one in six Americans (48 million people) become sick due to food borne diseases, 128,000 are hospitalized and 3,000 die3. While the government can help ensure food safety, the ultimate responsibility lies with individual food manufacturing companies. These companies bear the most responsibility for proactively developing food safety innovations and procedures that will protect consumers.
Fortunately, many of the best practices and procedures needed to improve food safety and quality are already in existence in the form of pharmaceutical standards, which are often more stringent than food manufacturing standards. Food manufacturing companies can voluntarily increase food safety and quality standards by borrowing best practices from the pharmaceutical industry, even if the standards are not required by law.
An important, yet often overlooked, component of food safety is food packaging. Food packaging facilities must be vigilant in protecting food products from contamination. Even though there are food-packaging regulations in place, there is still room for companies to go above and beyond industry standards to increase food safety and quality. Going above and beyond existing standards can be costly and time consuming, but can increase the safety and quality of food products.
For many food packaging companies, raising the bar on food safety often means renovating a legacy plant or custom designing a facility. For instance, cross-contamination can be reduced by isolating products in separate packaging rooms that only handle one specific product at a time. This stands in stark contrast to the traditional food packaging facility layout where multiple machines and products are housed in each room.
In addition to providing dedicated packaging lines in separate rooms, limiting the number of people who have access to a product while it is exposed is also key in preventing contamination. This can be accomplished by separating primary and secondary packaging functions in individual dedicated spaces, so only machine operators are in the room with the exposed product and not multiple secondary packaging employees.
A food packaging facility can also be designed with heightened security and access control. A proactive approach to security and access control prevents many food safety issues from occurring in the first place. At the foundational level, this begins with an access control system that regulates who is allowed in a packaging facility based on the hours employees are scheduled to work. Employees arriving onsite outside of their scheduled hours should be required to check in before entering the facility. In addition to access control, security cameras add another layer of protection. Even though it is not required by the FDA, cameras in each individual room that contains a packaging machine increases security. This level of security is even above and beyond the practices of many pharmaceutical packaging facilities, but it represents another way to improve food safety and quality.
Facilities should also be run using strict standard operating procedures that are continually documented and updated when a change is made that impacts operations.
Beyond the basic required standards, packaging companies have a significant level of freedom regarding the extent to which they formalize and document procedures. Too many companies are content with only reaching the basic standards. Formalizing all procedures and communication processes is a pharmaceutical industry best practice that can improve food safety and quality. When all procedures are followed and safe guards are in place to detect when a procedure is not followed, food safety increases. Voluntary internal audit programs, though not required by the FDA, are also useful for detecting and correcting issues before they affect consumers.
These are just a few examples of proactive initiatives that companies can take to protect consumers. The more proactive food manufacturers are in increasing food safety, the safer consumers will be.
Bob Shapiro is the CEO of GSC Packaging, a nationwide provider of turnkey contract packaging and secondary packaging solutions for powdered food products, drink mixes, supplements, and diet products. The company specializes in stick packs, stand up and other popular flexible pouch formats. For more information, visit www.gscpackaging.com.
1FDA Food Protection Plan. November 2007. Accessed March 2, 2013: http://www.fda.gov/food/foodsafety/foodsafetyprograms/foodprotectionplan2007/ucm132565.htm.