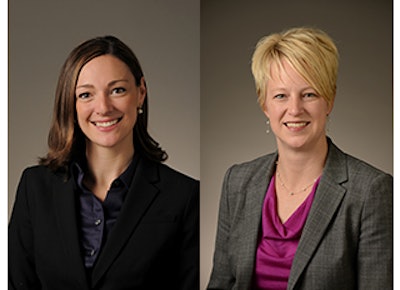 This article originally ran in Food Manufacturing's Jan/Feb print issue.
While combustible dust fires and explosions more frequently take place in metal or chemical facilities, food manufacturers producing or using fine-grained or pulverized organic products such as coffee, cocoa, flour, milk powder, starch, and sugar are also vulnerable. Small particles, generated in sufficient quantity and allowed to build on horizontal surfaces, if ignited in the form of a dust cloud, can release a catastrophic chain of events. Ignition sources can include welding, mechanical sparks, hot bearings, open flames, and electrical sparks.
For instance, in January 2014, a plant at Omaha International Nutrition (a company that specializes in the manufacture of feed and livestock products) suffered an animal feed mill collapse and then a fire, which was attributed to combustible dust buildup. Four people were critically injured and two people were killed. Dust explosions also have occurred at Lucky Day Tapioca (2011), LiHua Starch Co. (2010), Imperial Sugar Company (2008), and De Bruce (now a subsidiary of Gavilon) (grain elevator explosion, 1998).
There are several engineering, training, and safety measures that a company handling these types of combustible particles can take to prevent a fire or explosion, including identifying the combustible dusts in your facility, instituting proper housekeeping and ventilation to prevent dust release and build-up (and therefore preventing the formation of dust clouds), and eliminating and controlling ignition sources.
But it is difficult – if not impossible – to completely eliminate the risk of fire or explosion when handling or creating combustible dusts. A significant fire or explosion can cause significant personal injury or death, extensive property damage, release of environmental contaminants, injury to nearby landowners (evacuation or worse), loss of profit, OSHA and other federal or state government fines and citations, and significant reputational injury. Add to that the potential for major litigation (including possible criminal litigation), and it can be difficult, if not impossible, to re-build a business after such an event.
From a civil liability standpoint, there are steps that a company handling these types of combustible particles can take to prepare for a crisis now, before it happens:
As a starting point, it goes without saying that the company should be analyzing frequently and regularly its manufacturing, housekeeping, safety training, risk assessment, and industrial hygiene practices. Most dust explosions occur because a company (or its employees) (i) have not carefully reviewed Material Safety Data Sheets or other safety information for products being used in the manufacturing processes or being created as a byproduct of manufacturing; and/or (ii) have not taken steps to prevent dust accumulation or dispersion necessary for a dust explosion to occur, including good housekeeping and ventilation systems. Consider asking your insurer or another third-party auditor to analyze your systems and provide fire and explosion risk assessments.
The company should also gather, organize and review all insurance policies. A sound insurance policy should not only cover expenses associated with property damage, but should also provide coverage for costs associated with any environmental clean-up, the company's own economic losses, and any litigation. The company should also ensure that there is a protocol by which appropriate information is timely communicated to all insurance carriers, including appropriate notice under any contracts of insurance. Taking these steps now (rather than in the midst of a crisis) can help to minimize the company's financial exposure and ensure that any insurance claims are timely processed.
Another area of vulnerability is document retention. In the event of litigation, failure to implement a timely document retention hold, or omitting a key document custodian, could potentially expose a company to adverse litigation consequences, including financial sanctions. Companies should ensure that organizational charts are updated and accurate, and that policies related to computer usage and storage are up-to-date. Companies should also work with retained or in-house counsel to ensure that there is a process in place for timely implementing the litigation hold notice and necessary follow-ups, and instituting efficient and cost-effective protocols for hard copy and Electronically-Stored Information ("ESI") collection and storage. When developing protocols for ESI collection, companies need to think beyond just the collection of emails. Calendar invites, text messages, instant messages, voice mails, and photos may be fair game, depending on the nature of the litigation. Companies should also review and revise, if necessary, policies regarding back-up tape rotations, auto-delete functions, and departing key employee policies.
ENTRIES OPEN:
Establish your company as a technology leader. For 50 years, the R&D 100 Awards, widely recognized as the "Oscars of Invention," have showcased products of technological significance. Learn more.
If appropriate, companies may want to have key documents likely to be requested in the aftermath of an event already identified and accessible, e.g., a complete list of on-site chemicals with MSDSs, toxicological summaries, and other documents related to potentially hazardous materials on-site.
Companies would also be advised to evaluate their system for external and internal communications related to a crisis. Having a procedure in place now for directing all inquiries to a central location, reviewing press releases with the legal department, and monitoring news coverage will avoid a last minute scramble and help to avoid any miscommunication of facts. To further help avoid any mishaps down the road, companies should identify a limited number of people who will be communicating internally regarding any incident and remediation, and provide periodic training on best practices for written and oral communications. It may make sense to appoint a "crisis coordinator" and prepare for possible crisis scenarios, including creating protocols for responses thereto.
In the event that a fire or explosion does occur, there are several steps a company should take immediately to protect itself:
First, a document retention hold should be promptly instituted, and key documents collected, including any design, construction, or inspection documents and relevant company polices. It may be advisable to engage lawyers in the initial collection of documents to track their various sources. Additionally, there may be non-documentary evidence that needs to be preserved. Companies should consult with outside counsel on mechanisms for preservation and determinations of scope.
Companies should follow a protocol for internal and external communications. All written communications should be carefully considered and, as appropriate, undertaken within attorney-client or work product privileges. Any press releases should be reviewed by in-house or retained counsel, and the company should carefully develop its approach to responding to media inquiries, complaints, and federal or state agency concerns, so that messages are accurate and consistent. These processes will help to ensure that only the necessary facts are conveyed, and to avoid communication of any speculation or assumptions.
Companies should promptly coordinate an internal investigation, under attorney-client privilege and in conjunction with retained or in-house experts, regarding the cause(s) of the fire or explosion, regulatory compliance matters, maintenance and monitoring systems, and any necessary remediation efforts. The company would also be advised to interview and retain any necessary key opinion leaders or experts, including possibly an appraiser or economist to assist with any aggregate exposure analyses.
Of course, the company will undoubtedly be working with governmental agencies such as EPA, FDA, OSHA, or the CSB. Again, as with all external communications, it is important that the company be cooperative with government agencies but also speak with one voice, and keep in mind the potential litigation ramifications of any and all government investigations and statements made therein.
Finally, the company should take steps to begin to prepare for litigation by identifying any potential co-defendants (e.g., construction firms, inspectors, maintenance vendors) and identifying and evaluating any potential claims. The company may consider an early settlement claims process, and work with retained or in-house counsel to set up releases for claims. The company should, of course, be careful about the scope of any releases from putative class members, and develop steps to confirm any claims made.
Although one cannot predict or eliminate all risks in the event of an explosion, preparing and planning now will help to minimize the company's exposure and risk. In general, guiding principles are to be proactive, maintain credibility, take the high road, and think ahead.
Kara L. McCall is a partner and Michelle Ramirez is an associate in Sidley Austin LLP's Chicago office. The views expressed in this article are exclusively those of the authors and do not necessarily reflect those of Sidley Austin LLP and its partners.