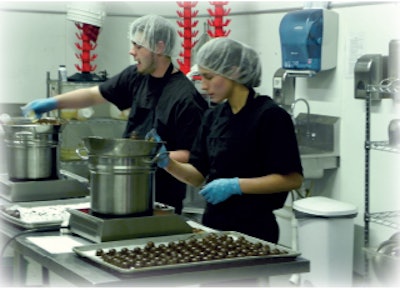 This article originally appeared in the September print issue of Food Manufacturing. 
Legalized recreational marijuana sales in two U.S. states have cultivated food and beverage demand far beyond rising cases of the munchies. Denver-based edibles manufacturer Dixie Elixirs is expanding its facilities to promote transparency and education in the industry while spotlighting the science behind its hand-crafted confections and carbonated beverages.   
"We intend this facility to be used to demystify the industry," said Joe Hodas, chief marketing officer at Dixie Elixirs. "This is an opportunity for regulators, legislators and entrepreneurs to understand how best to approach the marijuana industry."
Marijuana dispensaries made $165 million in the first five months of 2014; recreational dispensaries sold another $90 million, according to a study produced by Colorado. There's no official breakdown for foods infused with marijuana's psychoactive ingredient, THC, but many dispensaries (particularly in tourist areas) report that edibles are a significant portion of their sales. Users of edible products may prefer not to smoke marijuana or seek variety and a longer-lasting effect. The study also revealed that marijuana demand was much higher than previously estimated. 
Dixie Elixirs has been producing edible confections for medical marijuana patients since 2010. In October, the company moved just three miles from a 10,000-foot shared space to a new facility with nearly 30,000 feet of production and employee area, as well as plans for a cannabis growing space to ensure access to a somewhat scarce supply. The company has doubled its workforce to a total of 40 since the move. A cannabis-centric temp agency supplies it with workers certified in the industry, on an as-needed basis. 
The new Dixie Elixirs facility produces more than 100 SKUs across approximately 35 product types, including three types of cannabis-infused confections and six flavors of infused carbonated beverages in three strengths. Nearly 70 percent of its products are foods and beverages. Of those, approximately 50 percent are candies, such as truffles, Colorado Bars, Dixie Rolls and mints. Dixie Elixirs also produces flavored tinctures and pressed pills, as well as balms, bath salts, massage oils and pain-relief lotions that lack a psychoactive component. 
High-Tech THC Transparency
Marijuana use is currently legal in a few states, but it still carries a stigma that the edibles industry is working to shed. 
"We want people to understand that the extraction process involves a lot of technology and expertise," Hodas said. THC is extracted in oil form through an intricate mechanized process. Dosages of THC in products are tested at multiple points throughout the production process by an independent laboratory. The company posts the test results online. 
Construction is ongoing, but when it is complete, Dixie Elixirs' extraction unit will be displayed behind glass near the facility's entrance, similar to the mash tun in a brewery, Hodas said. 
Two vessels in an extraction unit are filled with ground cannabis leaves. The extractor pressurizes and heats carbon dioxide, which becomes a supercritical fluid. The fluid acts as a solvent to pull the THC, as well as cannabidiol and other cannabinoids, from the leaf material. Separators exert different amounts of pressure on the materials, which leaves them in different containers. This leaves a deposit to be used for topical products, food products and vaporizers. The THC oil is the base for truffles and infused into beverages and other food applications. 
The extraction unit is the same machine that pulls essential oils from herbs like lavender and eucalyptus. Nick Nolan, Dixie Elixirs' extraction technician, says similar technology is also used to sterilize medical implants. The unit, like any other piece of modern food manufacturing equipment, has a digital interface that shows and stores production data. 
The process uses leaves, also known as "trim" rather than the flower or bud. Marijuana leaves are easier to come by and typically sell for one-seventh of the cost while carrying half as much THC. Nonetheless, access to raw plant material is variable and is always in high demand. Dixie Elixirs' production schedules pivot on the arrival of new raw material.
Food Safety
Education is key to instilling customers with confidence in edibles products. Dixie Elixirs emphasizes accurate and informative labeling and strong traceability standards. 
"We try to follow as much of the regulated (food safety) model as we possibly can," Hodas said. "Our history is serving medical patients. It's important for us to have products they can feel good about." 
As part of Colorado's mandated "seed-to-sale" tracking system, Dixie Elixirs has a traceability system in place that identifies, using the batch number, which store it was sold to, all the way back to the plant from which the oil in the product originated.
Cannabis-infused foods are regulated by states rather than by the Food and Drug Administration, as they're not universally legal in the United States. Hodas said as the state is developing regulations, edibles manufacturers are working to give consumers as much information as they can. The challenge is communicating to inexperienced consumers who are prone to consuming the treats like their conventional counterparts. 
Labels for Education
In the food industry at large, labeling is a hot topic. Dixie Elixirs takes that concern seriously. Each of the company's products carries a Nutrition Facts label modeled after the FDA's, even though Colorado law doesn't require it. 
Dixie Elixirs also uses labels to educate consumers on how edible products function. Their beverage labels, for example, include an easy-to-read graphic that lists the strength of the product, as well as the average time that will pass before its effects are felt and how long they may last. Dixie Elixirs also marks the bottles with neck-hangers that read, "This is no ordinary soda. This contains 7.5 servings of THC." Ten milligrams is a serving according to Colorado.
"Really the message is, 'Hey this is serious stuff, be careful, use with caution,' " Hodas said.  "People not familiar with edibles may not know that it takes 45 minutes or even longer to feel the effects of edible products in digestion." 
The company hopes to create a section of its website where users can share their experiences and eventually compile a user-generated database for consumers to gauge their tolerance and feel more comfortable using the products. This will also create a feedback loop that allows the company and industry to properly cater products to users. 
Budding Growth
Demand for THC-infused foods is cropping up wherever it has room to grow. Dixie Elixirs is up to the challenge of expanding its business and customer base. 
"There's tremendous room for growth. Really, we're still very much in the early-adopter phase," Hodas said. The company hopes that one day, soccer moms will be just as comfortable picking up a THC-infused beverage from a dispensary as they would be when buying a bottle of wine from a liquor store. 
Recreational marijuana became available for sale in Washington on July 1. More states are decriminalizing use and sale of the plant. Dixie Elixirs' model of transparency, technology and education is helping sprout a strong crop of consumers, ensuring growth in the edible category for seasons to come