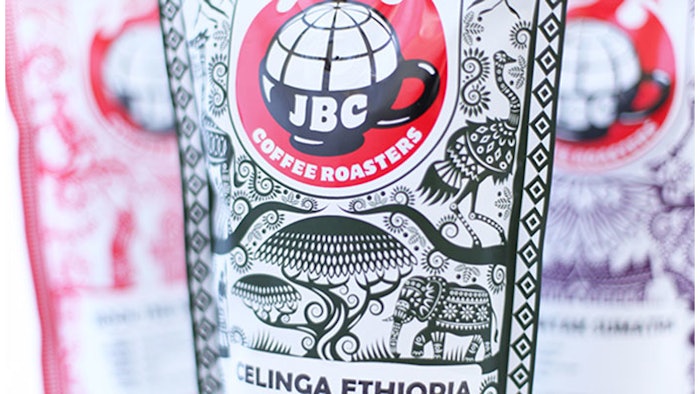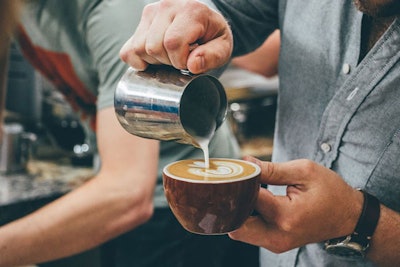 How do you take your morning cup of coffee?
The answer to this question usually involves cream and sugar, but there can be much more to it than that.
How about, which varietal of bean do you like, from which country, grown by which farmer and on what part of their farm? Or, what flavors do you love? Hints of banana and chocolate? How about something more savory?
This is the kind of revolutionary shift in conversation specialty coffee producers like JBC Coffee Roasters are trying to make more common at the breakfast table.
It's taken many years — JBC has been in the coffee game since 1994 — but the market finally appears to be catching up.
"Last year for the first time, specialty crested 50 percent of consumption in the U.S.," says Michael Johnson, the founder of JBC. "It's on the rise."
As the U.S. specialty roaster with the most high-rated beans in the last nine years by Coffee Review, an industry guide, JBC is poised to help lead an evolving industry that's shifting away from mass produced dark-roasted coffee to a buying market that could start to resemble a crowd of wine connoisseurs.
This isn't to say that the coffee industry is being overrun by snobs. Michael's palate may be fine-tuned enough for him to work as a judge at international coffee tasting contests, but he says when it comes down to it, most consumers can sip their way through a table of cups and find the best quality coffee.
And if JBC and other specialty roasters can continue to convert consumer tastes to their products, it's not just good for their bottom line — the shift can impact lives across the globe.
Almost all of the world's coffee production happens in developing countries and in most places is still picked by hand. The industry's reach stretches from family operations in Uganda to the hillsides of Vietnam to farms plagued by gang violence in El Salvador.
Despite that complicated global supply chain and a market still packed with mega corporations, JBC's sales have been taking off in recent years.
What has set them apart? A simple principle: You gotta use ripe beans.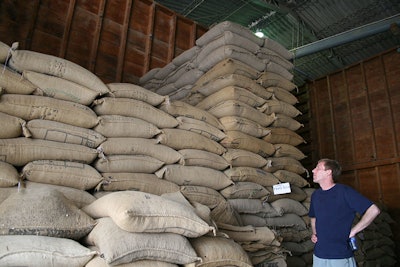 From Seed to Cup
Nestled into an industrial corner of Madison, Wis., and just off a busy highway that traces the bottom edge of the city, JBC's headquarters sits far from any coffee field.
But the influence is apparent in the company's roasting facility where coffee bags from around the world line the walls. Walking into the office, it's also quickly clear that you don't need a lot of floor space to run a coffee company like JBC.
At the front of the facility a coffee bar is set up to let visitors sample the goods with either a cup of coffee or an expertly crafted latte using a giant, shiny espresso machine.
"It cost about as much as a car," Laura Salinger Johnson, Michael's business sidekick and wife, jokes on a tour of the facility that houses two roasting machines, a packing station, storage room, tasting lab and offices.
Of course, much of the action in the company is happening far away on coffee farms in El Salvador, Papua New Guinea and Ethiopia.
Since launching JBC, Michael estimates that he's traveled internationally about 80 times and typically makes four to five trips overseas a year.
No matter where he goes, the product JBC is after is the same: ripe, red, coffee cherries.
Although coffee is called a bean, it's actually a seed that's found inside a fruit typically referred to as a cherry. Once picked from a coffee tree, the color of the cherry can range from green to purple. When it's a deep purplish red or sangria color, that's when Michael says the magic happens.
"Red, ripe cherries taste better," he says. "They have a higher sugar content and can give you a thick brew without adding cream and sugar, so they're healthier for you, too."
When pickers pull coffee cherries down from the trees, they often walk away with baskets full of cherries of all shades. Most roasters will take that range of harvested cherries, process them together and then dark roast the beans to get the burnt-flavored coffee found just about everywhere.
JBC and other specialty roasters instead pay the farmers to sort the cherries and separate out the ripe, red varieties. Once processed, bagged and shipped to JBC, the beans are then light to medium roasted, which Michael says brings out the natural flavors.
Light roasting is critical to JBC's operations, but Michael says it's not as crucial as most coffee drinkers have been led to believe. What really matters is how the bean is grown: what country it's in, who the farmer is, what the elevation of the coffee tree is (higher up means less oxygen which makes the fruit denser and sweeter), and even what time the rising sun hits the tree (more heavily shaded trees make fruit grow slower and sweeter).
"This is why two coffees from the same farm might not even taste the same," Michael explains.
All of those variables are why JBC labels its coffee differently than most sellers. Instead of just "French Roast," or "Colombian," JBC's labels identify the coffee's farmer and/or the area on the farm where the coffee is grown (the 'microlot'), and then country, before listing the bean's flavor notes.
These specifications can translate into a slightly higher price tag than mass-market beans. But because ripe fruit weighs more, and pickers are paid based on weight, it ensures more wages to the farm's laborers.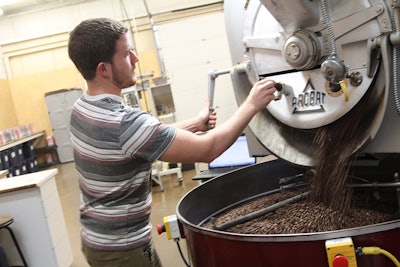 Buzz Words Matter
Not that long ago, "Fair Trade" became the buzz word that dominated the minds of conscious coffee consumers. It was meant as a label to signify the coffee was bought from a farm with better standards and labor practices. Eventually though, in many cases it became nothing more than a feel-good label. In fact, a four-year study published in 2014 by the University of London showed that all "Fair Trade" accomplished was higher incomes for farm owners, who often didn't pass the money down to workers.
Now, it's all about "Direct Trade," and JBC is at the forefront of that shift.
Instead of imposing a label certification process, JBC works directly with the coffee farms and simply pays bigger bucks for the more labor-intensive beans. By having these direct relationships, Michael says they can see the labor practices on the farm and how the higher income boosts employment for longer periods of time.
In El Salvador in particular, where Michael travels several times a year, this work not only means employment, it's also a source of legal income.
While flipping through pictures of the farms JBC works with, Michael gestures to a photo of a young lady picking cherries in El Salvador and says he can tell her gang affiliation by what clothes she's wearing.
"Right now violence in El Salvador is at its worst," Michael explains.
In fact, Michael says his closest brush with danger came during a trip to a farm in El Salvador. The incident started when a farmer JBC was working with picked Michael up from the airport in a car riddled with bullet holes and threw a gun in his lap, indicating he might need it for protection. Then, once they reached the secluded road leading to the farm, they passed several men on the side of the road in ski masks holding high-powered rifles — a moment Michael admits got his heart beating faster.
Michael said he never found out why the men were on the road but speculated they could have been protecting a drug shipment coming down the hill.
"I don't want to make it sound like these places are horrible to go to, because I love the people," he says. "But this is why they need us. Especially right now."
A few moments later he circles back to his tale from El Salvador to emphasize that the business they do in the country is to support a model of true economic sustainability for local communities.
"That's the bottom line: Once you've been in the industry long enough and you've seen what goes down, you want to sleep at night and feel like we're doing something that's helping," he explains.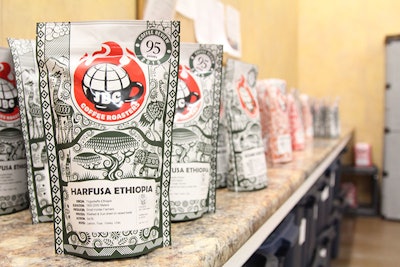 Tastes Like Success
JBC doesn't release its sales numbers, but Michael disclosed that sales have grown 100 percent in the last year. The company sells to a devoted e-commerce crowd from all around the U.S. and has shipped to coffee drinkers as far away as Dubai. They also have a significant number of wholesale customers.
To ensure the best quality for their customers, JBC relies on Michael's talent for sniffing out the best beans.
In the 90s, Michael got his start with a humble coffee cart he set up each week near Madison's bustling Farmers' Market. Eventually, he decided to ditch his corporate desk job and entrench himself in the coffee industry. Within a few years, he realized that selling high-quality beans would help him land larger accounts, so he began learning everything about what it takes to make the perfect cup. Before long he was invited to Ethiopia as a judge in a coffee competition and has since become a Q Grader — a high distinction in the industry.
When the company's suppliers send in beans to sample, Michael roasts and brews the beans in JBC's lab so they can be tested for quality. If all tastes good, larger shipments of the beans are then handed to the company's roast master, Adam Walsh, who handles duties such as roasting, brewing research and packaging.
Afterward, Walsh feeds the beans into a machine that roasts at about 400 degrees Fahrenheit. JBC's main machine was made by Probat — one of the most well-established roasting machine brands in the industry. But it has been outfitted with the latest monitoring technology that cranks out data about the beans the entire time they roast.
Because of the heat, Michael says contamination worries are minimal. But keeping the roasting machines cleaned is another matter. About once a month, Walsh says the roasters have to be completely dismantled for an in-depth maintenance job. The machines are so reliable though that Michael says they last for decades without depreciating in value.
While the equipment and expertise have been key to JBC's success, Laura says that a recent and major rebrand of the company has also made a significant impact.
"Michael was very anti-brand. He wanted to be a truth-teller and thought that if the product works, that's all you need," Laura explains. "We had a very ugly, red bag and the worst website that ever graced the Internet."
After investing in consultants to guide JBC through a rebranding process, the company has a snazzy new logo, easy-to-use website and vibrantly decorated bags with artistic images inspired by the country where the beans were grown. JBC even erected a large sign outside their facility that faces the highway nearby.
"We landed three wholesale accounts in the last month alone from people who saw our sign," Laura says.
The company's coffee bar is also used to host a range of local events including cupping and latte art challenges, which can keep JBC's facility hoppin' after the roasters are shut down for the day.
And while JBC continues to push the industry in the direction of higher quality, sustainability and direct trade, Michael says the company could also get a boost from the natural cycles of history.
"Before WWII there were a lot of microroasters just like us. And then the war effort came along and they were smashed out of business by mass-producers," he says. "I think what is happing now is that in this new generation, specialty roasting is getting popular again. It's a cycle."