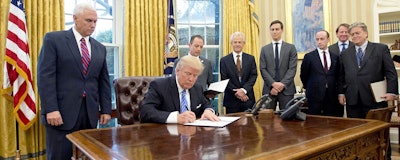 When Donald Trump ran for presidency in 2016, he made it clear to the American public that he would keep the interests of businesses at heart, pushing for deregulation in order to reshape the U.S. economy. Now, over a year into his first term in office, President Trump has rolled back Obama-era rules that increase eligibility for overtime pay, limit union-busting, and increase fuel economy standards, among others, attempting to scrap outdated and unnecessary policy. These regulation reversals by the Trump Administration have had a large impact on manufacturers in the U.S.
Here is a look at seven of the most significant regulations the Trump Administration has rolled back so far.
Fair Pay and Safe Workplaces Rule
The Fair Play and Safe Workplaces executive order, issued by former president Barack Obama, required contractors to comply with workplace laws before receiving new government contracts. It attempted to ensure that all contractors comply with workplace laws, including health and safety standards, wage laws, and civil rights laws. Federal contractors were required to disclose labor violations, which would be factored into decisions around federal contracts.
Supporters of this rule were advocates for workers, small businesses, veterans and people with disabilities, and civil rights leaders. They believed the order would raise standards for the more than one in five Americans employed by companies that do business with the federal government.
Opponents of the rule included the U.S. Chamber of Commerce, several contracting trade associations, and congressional Republican leadership. Many contractors also resisted the plan as a burdensome form of "blacklisting" that penalized companies for unproven violations. Other opponents pointed out its high cost and overlap with existing federal regulation.
Although regulations to implement the order were finalized in August 2016, a court order prevented its implementation. In February 2017, Congress took its final steps to repeal the rule, and in March, President Trump signed the resolution overturning it. Though this action is in keeping with the Trump Administration's overall policy of eliminating costly and inefficient regulation, this particular rule was largely dead before Trump's arrival.
Persuader Rule
The Persuader Rule, or Persuader Advice Exemption Rule, would have effectively eliminated the "advice exemption" under the Labor Management Reporting and Disclosure Act of 1959 (LMRDA). LRMDA requires employers to report each time they engage a consultant to persuade employees on how to use their collective bargaining rights. The rule, first published by the U.S. Department of Labor (DOL) in March 2016, would have required that employees and the consultants they hire file reports for direct and indirect persuader activities.
Supporters of the rule believed it would have helped level the playing field for workers by letting them know the source of the anti-union messages they receive during union drives. Opponents disliked the rule for many reasons—conflicting court interpretations of the issue, the need to conduct further analysis of the statute and assess the impact on firms and attorneys seeking legal assistance, and the "resource constraints" the DOL already faces when it comes to policing employers. The Obama-era Persuader Rule was opposed by many, including 17 states and the American Bar Association, because they believed it imperiled the attorney-client relationship and would make it harder for businesses to claim legal advice.
The rule had not been implemented because employer groups tied it up in litigation in federal court. The Persuader Rule finally saw defeat under Trump-appointed Labor Secretary Alexander Acosta, and was rescinded in June 2017.
Record of Injury Rule
The Record of Injury Rule required employees to electronically submit records of work-related injuries and illnesses to the government so they could be more readily available online. The rule extended the period of time from six months to five years that employers could face fines for not keeping records on workplace incidents. The Occupational Safety and Health Administration (OSHA) uses this information to help gauge health and safety conditions at worksites.
Supporters, including OSHA, said the rule reflected the obligation of employers to keep ongoing records. Republican opponents of the rule, however, claimed it violated a six month statute of limitations in the law regarding record keeping violations and placed extra burdens on companies while doing little to protect worker safety.
To appease the interests of businesses, President Trump signed a measure approved by both houses of Congress to nullify the Record of Injury Rule in April 2017. The nullification merely impacts OSHA's ability to issue a citation following expiration of the six-month statute of limitations.
Overtime Rule
The Overtime Rule would have increased the amount salaried workers could earn and still be eligible for overtime—from $23,600 to $47,476—roughly doubling the level already in place. If the rule were to be implemented, it was estimated that more than 4 million salaried workers would have become eligible for overtime pay when they worked more than 40 hours per week.
The Trump Administration stated that it wanted to set the right threshold for overtime pay, but would revisit what the exact number should be. Worker advocates feared that the administration would lower the threshold significantly, making fewer workers eligible for overtime.
In 2017, President Trump tabled the Overtime Rule with support from pro-business organizations. The Trump Administration viewed this action as a victory for businesses that would have faced dramatic labor cost increases from the doubling of the overtime salary threshold.
Equal Employment Opportunity (EEO) Pay-Reporting Rule
The Equal Employment Opportunity (EEO) Pay-Reporting Rule would have required large companies to report to the government what they pay employees by race and gender in an attempt to track pay disparities and close the wage gap. This Obama-era regulation would have given the Equal Employment Opportunity Commission (EEOC) more reach in its efforts to investigate firms with large pay disparities.
The Trump Administration halted the rule in August 2017 to review the government's pay data collection process, claiming the proposed policy would not yield the intended results. Some in the business community also opposed the rule, saying it added an unfair burden to a company's workload.
The action to halt the EEO Pay-Reporting Rule provoked outrage from groups who note that women and minorities aren't receiving equal pay for equal work.
"Pay discrimination goes undetected because of a lack of accurate information about what people are paid," said Jenny Yang, the 2017 EEOC chairwoman.
Joint Employer Rule
The Joint Employer Rule increased employers' liability for labor and wage violations committed against their contract laborers. The joint employer rule applied to cases in which a business could be said to effectively control the workplace policies of another company, such as when a company subcontracts to another business.
Until 2015, the DOL said the doctrine applied only to cases in which the company had "direct" control over the other's workplace. In 2015, the Joint Employer Rule changed the standard to include much more ambiguous "indirect" control.
This Obama-era regulation would have made it easier for unions and workers to hold companies accountable for practices of contractors and franchisees. Companies that operated on a franchise model strongly opposed the rule, fearing that they could be held liable for workplace violations that they didn't directly oversee. Other opponents viewed the rule as a law-stretching political gift to unions.
In June 2017, the National Labor Relations Board, with a 3-2 Republican majority after Trump's appointments, returned to the standard that requires companies to have direct and immediate control over labor conditions before they are liable for violations. This action marked a win for businesses and free-market groups, and was widely expected of President Trump.
Fuel Economy Standards
The Fuel Economy Standards effort required automakers to hit an average target of 54 mpg for their vehicles by 2025, in compliance with the Corporate Advantage Fuel Economy (CAFÉ) standards. This rule was one of Obama's signature efforts to fight climate change, and the clean and efficient automobile standards could have significantly changed the composition of the nation's auto fleet.
In an effort to weaken greenhouse gas emissions and fuel economy standards for automobiles, the Trump administration withdrew the fuel economy standards in April 2018. This action was a victory for car manufacturers, giving them the power to potentially roll back industry standards worldwide. President Trump told autoworkers in Detroit last year that he was determined to roll back the emissions rules as part of a bigger effort to jump-start the nation's car industry.