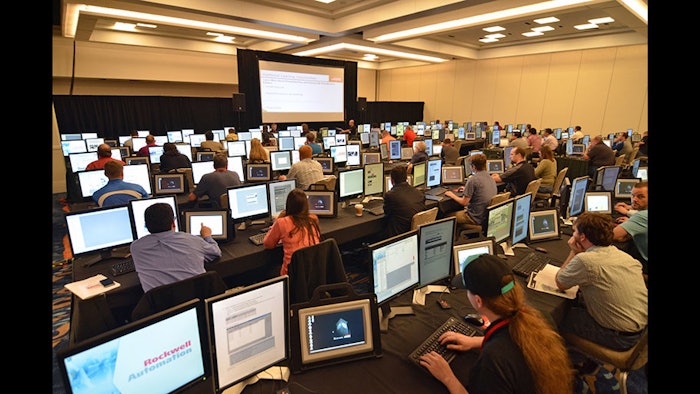 MILWAUKEE — Rockwell Automation will host its annual technical education and user conference June 11-16 at the Rosen Shingle Creek resort in Orlando, FL. The Rockwell Automation TechED event will feature over 750 hours of training, including hands-on labs, technical sessions and discussion forums. Attendees can learn about the latest techniques and technologies to maximize their manufacturing and production operations, while earning professional development hours.
Designed for end users, system integrators, distributors, Rockwell Automation PartnerNetwork members and machine builders, attendees can try the latest Rockwell Automation products and technologies in a classroom environment and network with people from a variety of industries. Sessions are offered for all knowledge levels, from introductory courses through advanced training. 
The event also provides sessions tailored toward information and manufacturing engineers. Numerous sessions will focus on IT/OT engineering and collaboration for industrial automation, including mobility and virtualization, information management and analytics.
"The focus of the Rockwell Automation TechED event is to provide an opportunity for industry professionals to expand their knowledge and domain expertise. With a focus on new technologies to connect people, assets and data across the enterprise, this training helps attendees drive increased productivity and profitability," said Frank Kulaszewicz, senior vice president, Architecture and Software, Rockwell Automation.
Keynote presentations and demonstrations on emerging technology trends will also be offered. Topics include scalable industrial analytics and cloud computing, operational data infrastructure and management, digital transformation, remote access and monitoring, and connected services and solutions.
Register now for the Rockwell Automation TechED event to secure a place in preferred sessions. 
Additional professional and educational development opportunities are available at regional Rockwell Automation on the Move events being held in North America now through September, and at the 2017 Automation Fair event held by Rockwell Automation and members of its PartnerNetwork program on Nov. 15 and 16 in Houston. The Automation Fair event will offer a series of technical education sessions and showcase the latest in automation technology. Registration for the 2017 Automation Fair event will begin in August.