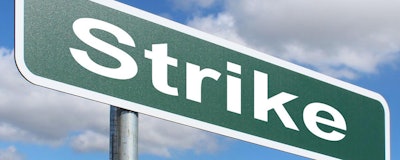 CHESHIRE, CT — Close to 200 aerospace workers in Connecticut went on strike against United Technologies Corp.
Workers at UTC Aerospace Systems in Cheshire walked off the job Monday after failing to reach a contract agreement.
The workers said the strike is over pay and increased health insurance costs.
UTC Aerospace Systems makes equipment, including brakes, landing gear and data management systems. The company employs 41,000 workers and listed a profit of $2.4 billion last year.
Workers in Cheshire say their average hourly pay of $20 is among the lowest among the UTC Aerospace plants.
Local union president Mary White told the Hartford Courant that the company's hourly pay raise proposal of 25 cents "was such a slap in the face."
The union says the company has gradually increased workers' contribution of health insurance costs. Workers now pay a $19,000 deductible for family health insurance plans, according to White.
"They've been taking it. They've been taking it. Now, they're tired of taking it," she said.
UTC Aerospace said Monday the company presented a "fair and equitable contract" that was "competitive within the region and the industry."
The plant will remain open and operate as normal, and it does not expect the strike to affect customers, the company said.
The company also said negotiations are ongoing, and it is committed to reaching a successful outcome with the union.