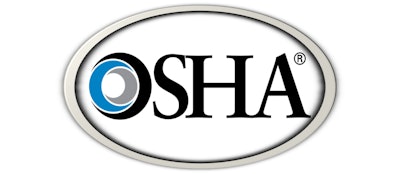 GREENWOOD VILLAGE, CO — The U.S. Department of Labor's Occupational Safety and Health Administration (OSHA) has cited Hammers Construction Inc. and Montes Construction LLC after a fatal fall at a Greenwood Village, CO, worksite. The companies face proposed penalties of $177,893.
OSHA inspected the worksite in March 2018 after an employee fell while installing metal roofing panels on a storage unit building. OSHA cited the two construction companies for failing to use adequate fall protection and restrict employees from standing on the mid-rails of scissor lifts. OSHA also cited Montes Construction LLC in January 2018 for failing to provide fall protection, and now faces a willful citation.
"These employers failed to protect their employees from well-known and preventable fall hazards," said OSHA Area Director David Nelson, in Englewood, Colorado. "This tragedy could have been prevented if they had met their obligations and provided the required fall protection."
Hammers Construction Inc. and Montes Construction LLC have 15 business days from receipt of citations and penalties to comply, request an informal conference with OSHA's area director, or contest the findings before the independent Occupational Safety and Health Review Commission.
Under the Occupational Safety and Health Act of 1970, employers are responsible for providing safe and healthful workplaces for their employees. OSHA's role is to ensure these conditions for America's working men and women by setting and enforcing standards, and providing training, education and assistance.