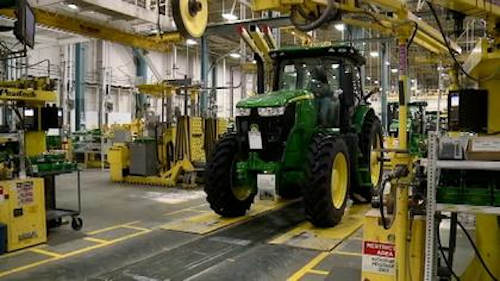 One key to bolstering manufacturing jobs in the U.S. could depend on overhauling the country's impression of what used to be called "blue-collar" careers.
Author and columnist Jeffrey Selingo writes in The New York Times this week that many Americans continue to perceive skilled trades jobs as positions for young people that don't attend college.
But he noted that manufacturing jobs increasingly rely on highly sophisticated technology — and, as a result, on high-level technical, math and critical thinking skills.
One estimate, from the nonprofit National Skills Coalition, found that 54 percent of jobs in the labor market were "middle-skill jobs" in health care, computer technology, construction and other fields.
Just 44 percent of workers, however, were equipped to take on those positions, a trend that reflects years of complaints about skills gaps in the U.S. manufacturing sector.
"These are not positions for underachievers," Roger Collins of Siemens, which operates a gas turbine factory in North Carolina, told Selingo.
One solution, Selingo writes, could be the apprenticeship. Although commonly linked with trade groups and labor unions in the U.S., apprenticeships are a common career path in Europe and elsewhere around the globe.
Siemens, based in Germany, recruits apprentices from nearby high schools for its turbine plant. Participants receive an associate degree from Central Piedmont Community College and four years of on-the-job training — all with no student debt.
Farm equipment giant John Deere, meanwhile, partnered on a curriculum path for prospective technicians with several community colleges.
Apprenticeships are supported by both parties in Washington — to the tune of $265 million in funding over the past two years. Although about 21,000 programs now include some 500,000 apprentices — and growing — nationwide, that amounts to less than 2 percent of the population between ages 18 and 24.
Proponents argued that the growth of such programs in recent years will need to continue if the nation hopes to bolster its manufacturing workforce.
"Apprenticeship is the other college, except without the debt," Tom Perez, the labor secretary under President Obama, told the Times.