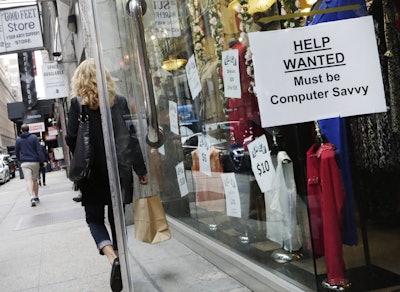 WASHINGTON (AP) — U.S. companies added a solid 216,000 jobs in November, the most since June and evidence that the incoming Trump administration is inheriting a solid economy.
Payroll provider ADP said Wednesday that nearly all the gains occurred in service sectors such as retail, hotels and restaurants, as well as higher-paying professional services. Construction firms added 2,000 jobs, while manufacturing shed 10,000.
The figures add to other recent signs that the economy is expanding at a decent pace. Growth reached 3.2 percent at an annual pace in the July-September quarter, the government said Tuesday, much higher than the 1.1 percent rate in the first half of the year. Americans bought homes at the fastest pace in a decade in October and consumer confidence is at a nine-year high.
By one measure, home prices nationwide have finally surpassed their bubble-era peaks, boosting household wealth. And there are signs wages are picking up after years of sluggish growth.
"Overall, consumers are feeling confident and are driving the strong performance we currently see in the job market," Ahu Yildirmaz, head of the ADP Research Institute, said.
Mark Zandi, chief economist at Moody's Analytics, said that retail hiring for the winter holiday shopping season was especially strong, even after seasonal adjustments intended to offset those effects. That suggests retailers may be ramping up their temporary hiring efforts earlier to ensure they can find enough workers, he said.
Americans' incomes increased at their fastest pace in six months in October, according to a separate report from the Commerce Department Wednesday. That report showed spending slowed last month after a sharp increase in September.
Those trends make it increasingly likely that the Federal Reserve will raise short-term interest rates at its next meeting in two weeks. Investors see a 94 percent probability of a hike at that time, according to futures trading on the Chicago Mercantile Exchange.
The ADP data cover only private businesses and often diverge from official figures. Economists forecast that the government's jobs report, to be released Friday, will show a gain of 174,000 jobs, according to data provider FactSet.