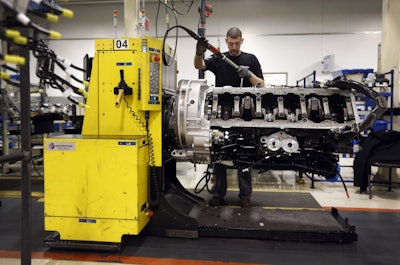 As manufacturing plants become increasingly sophisticated and automated, many companies worry whether they will be able to find workers with the skills and expertise to operate them.

Manufacturers that continue to provide more traditional blue-collar jobs, however, increasingly face a different obstacle: whether their job applicants can pass strict drug testing requirements.

Executives from two manufacturers in economically hard-hit northeastern Ohio each told The New York Times that a significant portion of their potential workforce is unable to do so.

Warren Fabricating & Machining in Hubbard, Ohio, sees about 40 percent of applicants fail drug tests, according to co-owner Regina Mitchell. She told the paper that about half test positive for marijuana and half for opiates or other, harder drugs.

Meanwhile, at nearby Columbiana Boiler in Columbiana, Ohio, at least 25 percent of applicants fail drug tests, and chief executive Michael Sherwin said that labor shortages cost his company hundreds of thousands of dollars and put him at a disadvantage with a German rival.
Analysts noted that the problem likely adds to the growing costs of the nation's opiate addiction crisis. The estimated $78.5 billion economic impact in 2013 did not include lost productivity or other business costs, the paper reported.

The pattern also coincides with many states — including Ohio — relaxing their attitudes and laws about marijuana for medicinal or recreational purposes. The companies, however, said that the inherent safety risks of their operations prevented them from easing drug testing requirements.

"The lightest product we make is 1,500 pounds, and they go up to 250,000 pounds," Sherwin told the Times. "If something goes wrong, it won't hurt our workers. It'll kill them."

The issue also presents challenges for the broader economy. Although many applicants must be turned away from potential jobs after failing drug tests, many more likely never apply in the first place.

Experts said that drug use is likely preventing a substantial percentage of the workforce from moving from lower-wage jobs into positions like those at Warren or Columbiana Boiler — which can pay $15 to $25 per hour with benefits.

"That could have a positive, cascading effect on wages," Princeton University economist Alan Krueger told the paper.