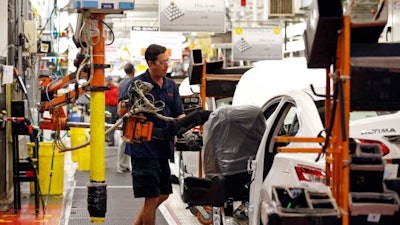 A bid by workers at Mississippi's Nissan Motor Co. plant for United Auto Workers representation could turn on a key voting bloc — 1,500 workers who are Nissan employees today, but were initially hired through contract labor agencies.
Those workers say they make less than longtime Nissan employees and have worse benefits, and UAW supporters say that's a disparity they'd like to address through contract negotiations.
"I think it's very unfair because we're doing the same job," said Shanta Butler, a union supporter who started as a contract worker at Nissan in April 2014. "I think we should be gradually allowed to make our way up to what they're making."
Nissan, for its part, refuses to discuss specific wage and benefit levels.
"Both Nissan technicians and associates enjoy long-term, stable jobs with some of the most competitive wages and benefits in Mississippi," spokeswoman Parul Bajaj said in a statement.
Contract work and workers on second-tier pay scales has also been a major irritant for union supporters at automakers nationwide. The unionized Detroit Three agreed to gradually end second-tier wage scales in their most recent UAW contracts, and UAW Secretary-Treasurer Gary Casteel said there are limits on contract workers. But Casteel said that "Southern workers and this model of temporary labor" may erode the high wages traditionally paid by automakers.
"They keep lowering the wages and lowering the benefit levels," Casteel told The Associated Press in a phone interview.
The Center for Automotive Research found in 2015 that Nissan's pay and benefits cost $42 per hour per worker, much less than the $65-an-hour cost for workers at Daimer AG's Mercedes-Benz plant in Alabama, or the $58-an-hour cost for General Motors workers. Both GM and Nissan have given pay raises since then.
Contract workers are part of what holds the costs down, and also make it harder for the company's employees to fight back, said Dan Cornfield, a Vanderbilt University sociologist who has studied unions.
"The presence of contract workers reduces the bargaining power of full time workers," he said.
Between 3,500 and 4,000 of the 6,400 workers at the Nissan complex just north of Jackson are expected to be eligible to vote in the election set for Aug. 3 and Aug. 4.
It's the first-ever union election at the Canton plant, although the UAW lost two earlier votes at Nissan's other American assembly plant in Smyrna, Tennessee. Union supporters say the UAW could help negotiate better wages, benefits and working conditions at the plant. The company is urging workers to reject the union, saying the UAW would be an economic burden.
The Japanese automaker has employed some contract workers in Canton since the plant opened in 2003. While the company prides itself on never having laid off a direct Nissan worker — though it cut their hours during the recession — contract workers were cut as car sales plummeted. Nissan turned to contract workers in a big way when production began to rebound in 2011.
The practice of adding temporary labor during production increases and new model launches is common practice across the automotive industry, Bajaj wrote.
Today, all new production workers at Nissan's two assembly plants, plus its engine plant in Decherd, Tennessee, are initially hired through contract agencies, Bajaj said. In Canton, Kelly Services wrote in a June employment listing that pay starts at $13.46 an hour, rising as high as $17.30 an hour, with the chance to join Nissan permanently within six months. But workers who make the switch stay on the same wage scale, said Akemptisha Bailey of Canton, who started with Kelly in 2012 and is now a supervisor in the paint shop.
Nissan technicians hired before the recession make a top wage of $26.02, union officials say, while new converts are limited to a top wage of about $24 an hour. That difference could be worth more than $4,000 a year in pay.
The company says it began converting some workers at the three plants to its payroll in 2012, the same year the UAW publicly protested the use of temporary workers, although figures provided to the Mississippi state auditor show direct Nissan employees didn't begin to rise significantly until 2014. Bajaj said the company has put 1,500 workers on its payroll in Canton from Kelly and MINACT, a materials handling contractor, the first time Nissan has ever released numbers.
Bailey said that joining Nissan's payroll was great "morale-wise." Because she's a manager, she can't vote in the election, although she opposes the UAW.
"I can put food on my table without worrying about having to pay my light bill," she said, saying her family's economic security is much improved.
UAW supporters say reliance on contract or temporary employees is still a problem in Canton. They argue that it undermines the bargain that Nissan made with Mississippi in exchange for what could be more than $1 billion worth of subsidies and tax breaks over 30 years.
"We cannot have permatemps here," union supporter Rahmeel Nash said. "That's not what you promised the state of Mississippi. You promised the state of Mississippi that we would have good-paying, full-time jobs."
Nissan hasn't been accused of violating the legal requirements of its incentive agreements, and Bajaj said Nissan has lived up to the spirit as well, investing $3.3 billion.
"Nissan is proud to call Mississippi home, and it is clear that we have had been a major contributor to the state since arriving in 2003," she wrote.