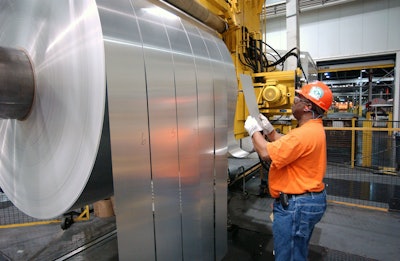 China appealed to Washington on Friday to refrain from imposing sanctions on Chinese aluminum suppliers after U.S. producers filed a complaint against them in the Trump administration's first trade case.
An industry group, the Aluminum Association, accused Chinese producers of selling at unfairly low prices that hurt foreign competitors in the case filed Thursday. It asked the U.S. Commerce Department to impose anti-dumping duties of 38 percent to 134 percent on aluminum foil for consumer and industrial uses.
"China hopes that the U.S. side will not resort to trade remedies," a Commerce Ministry official, Wang Hejun, said in a statement. "We hope the two countries can resolve the concerns of both industries through dialogue and hope the U.S. Department of Commerce will exercise caution and avoid harming mutual benefit."
A flood of low-cost Chinese aluminum exports has pushed global prices so low that U.S. and European smelters are closing. Producers say thousands of jobs are at risk.
Trump promised during his campaign to raise duties on Chinese imports to offset what he was unfair action by Beijing but has yet to take action.
Aluminum is one of an array of Chinese industries including steel, coal and glass whose production mushroomed over the past decade until supply vastly exceeded demand.
The ruling Communist Party is shrinking steel and coal production but has yet to announce plans for aluminum.
Chinese smelters that make more than half the world's aluminum are adding millions of tons of capacity, supported by what Western competitors say are improper subsidies.
After a dip in early 2016, Chinese aluminum production rebounded to a new high of 2.95 million tons in the month ending in mid-February, according to data compiled by the International Aluminum Institute in London.
The Aluminum Association said it was the first trade case it has filed in the group's 85-year history. The complaint was filed with the U.S. Commerce Department and the International Trade Commission.
"This unprecedented action reflects both the intensive injury being suffered by U.S. aluminum foil producers and also our commitment to ensuring that trade laws are enforced to create a level playing field for domestic producers," said the association president, Heidi Brock, in a statement.