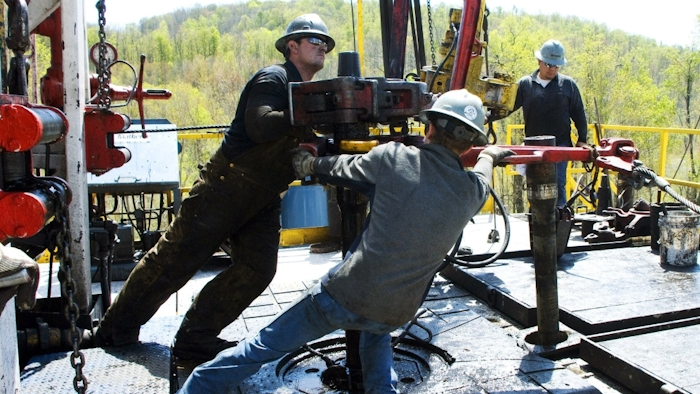 When it comes to oil prices, $65 is the new $100. At least, that's the wisdom from the CEO of TMK Ipsco, a pipeline supplier who's seen a sharp uptick in business since oil prices climbed over the $50-a-barrel mark.
It wasn't that long ago that any price drop far from the $100-a-barrel highs of a few years ago was enough to send oil companies into panic mode. But since plummeting to the $26 low of last year, $50 and up is enough to give many companies the confidence they need to kick old drills back to life.
In the U.S. and Canada, exploration and production spending are expected to increase at a rate four times higher than the worldwide average this year.
There's just one problem: After the fossil fuel industry bubble popped a few years ago, workers have been forced to seek jobs elsewhere — and many may not be coming back.
Even as a large percentage of jobs are replaced with automation, the industry is struggling to fill open slots. 
Here's a look at the job woes, by the numbers:
3 = Number of years since the oil industry increased spending. This year, that trend is changing and analysts are expecting a 7 percent boost in capital expenditures.
125,000 = Average number of barrels a day added to U.S. oil production since September.
440,131 = Oil jobs eliminated around the world, as of the end of 2016. More than three-quarters of those jobs were oilfield service providers, drilling contractors and equipment makers.
$3.12 billion = Severance costs paid by the world's four biggest oil service companies over the last two years.
80,000-100,000 = The number of jobs that Goldman Sachs predicted the oil and gas industry would need to add to meet the needs of growing production between 2016 and 2018.
$80,000 = Even at this yearly salary, it's hard to fill positions for truckers to haul fracking sand, the CEO of Agility Energy told Bloomberg.
Up to 50 percent = The percentage of oil workers who left to pursue jobs in other industries like construction and renewable energy that experts say are likely not planning a return to oil-related work.
One-third = Number of oil-related jobs that will likely be replaced by automation instead of new workers.