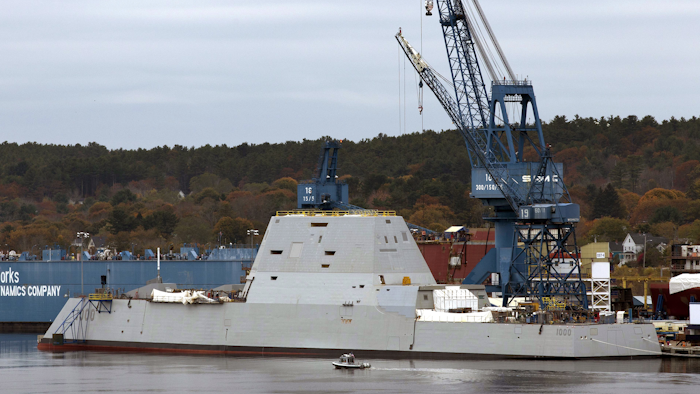 The largest union at Bath Iron Works approved Sunday a four-year contract that contains provisions aimed at making the shipyard more efficient before bids are submitted on key contracts in the coming year.
The Navy shipbuilder initiated early contract discussions because it wanted concessions from the 3,500 production workers represented by the union before bidding on a contract to build up to 25 Coast Guard offshore patrol cutters.
"We've done our part. Now they need to step up and do theirs so we can be competitive and win these contracts," Jay Wadleigh, president of Machinists Union Local S6, said after voting at the Augusta Civic Center.
Wadleigh said the voting was close but declined to provide a breakdown. There was no strike on the line because the current pact does not expire until May 22.
The shipyard's workforce, which totals 6,000, has been warned that as many as 1,200 jobs could be cut if the yard fails to win the Coast Guard contract. That contract could be worth $10 billion or more over the next two decades, Coast Guard officials have estimated.
The new agreement contained no wage increases but offered $2,500 annual bonuses and modest increases in company pension contributions. Company health insurance contributions will be unchanged over the life of the contract but workers will face higher deductibles and co-pays. Also included are scaled-back company proposals on work rule changes and hiring of subcontractors.
"This agreement will help make BIW more competitive as we seek to win new work so we can continue to provide good-paying jobs here in Maine," said spokesman Matt Wickenheiser.
Workers were divided after voting.
Shipbuilder Doug Barton of Pittston showed what he thought of the proposal by setting fire to the 124-page tentative agreement and watching it burn as a crowd gathered around. He said the contract allowed shipyard owners to "laugh their way to the bank."
"We're the best shipbuilders in the world, and that's all they're going to offer?" he said.
But others said there was too much at stake to reject the proposal.
"At the end of the day, people want to work. At the end of the day, you have got to look to the future," said Mike Sewell Sr., a welder from Lisbon. He supported the contract, saying a strike would hurt both the company and workers.
Bids for the contract for Coast Guard off-shore patrol cutters are due in March, officials said. Also expected to bid are Eastern Shipbuilding Group in Panama City, Florida, and Bollinger Shipyards in Lockport, Louisiana. Later in the new year, Bath Iron Works will be bidding against Huntington Ingalls in Pascagoula, Mississippi, for additional Navy destroyers.
To be competitive, company President Fred Harris had told workers he wanted them to take on additional jobs, terms that led to a strike in 2000. He also wanted to have subcontractors build berthing units, lockers and door hatches. The new contract contains scaled-back provisions from what the company sought, Wadleigh said.
The original proposals were met with anger by shipbuilders. They said previous efforts to force workers to perform tasks outside their specialties led to inefficiencies, and they resisted the idea of using subcontractors.
Many shipbuilders remain unhappy with Harris.
"He's not about being fair," Charles Davis, a welder from Wiscasset, said after casting his vote. "He's about corporate greed."