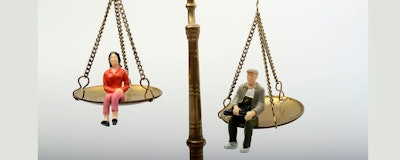 The manufacturing industry has no shortage of impressive numbers. Per the Bureau of Economic Analysis, manufacturers alone contributed $2.18 trillion and 11.7 percent of GDP for the U.S. economy in 2016. This figure has risen steadily since 2009, when manufacturers contributed $1.70 trillion. The National Association of Manufacturers reports that for every dollar spent in manufacturing, another $1.81 is added to the economy — the highest multiplier effect of any economic sector. It's clear that the manufacturing industry matters. So, if you're in the manufacturing industry, what's the key to keeping your numbers headed in the right direction? Attracting and retaining a more diverse workforce.
While women totaled about 47 percent of the US labor force in 2016, only 29 percent work in manufacturing (Bureau of Labor Statistics). Clearly there is still work to be done. While it's often hard to meet diversity goals, smart companies make it a priority because it's been proven to directly improve the bottom line. In fact, according to the latest McKinsey organization analysis report, "Diversity Matters," companies in the top quartile for gender diversity are 15 percent more likely to have financial returns above their respective national industry medians.
To create an inclusive culture and attract diverse candidates to the team, here are some best practices that can be applied to any size organization:
No. 1 - Be open and transparent – publish your diversity numbers
Rip off the bandage. Treat this as you would any other business problem. Even if your current workforce does not reflect a diverse company culture, transparency shows your commitment to improvement. Publish your company's current diversity stats to establish a baseline from which to measure progress.
For example, our 120 employee workforce is made up of 39 percent women — and outside of the company's two male founders, senior management is divided 50/50 between women and men.
Every day, we work closely with manufacturers to get their product data right. Technical information is collected and categorized to meet the needs of each retailer, supplier and distributor we serve. This is a fast-paced environment. And there is no way we would be able to drive software innovation or keep our projects on track without a massive, cohesive team effort — with smart women contributing a large portion of that winning equation.
No. 2 - Mentor: Develop and encourage a diverse culture
Creating a culture that fosters free-thinking and collaboration leads to innovation and growth. The Manufacturing Institute (MI), APICS and Deloitte recently conducted a study — "Women in manufacturing: Stepping up to make an impact that matters" — which surveyed 600 women in manufacturing and interviewed 20 manufacturing executives in manufacturing. They found the positive benefits of gender-diverse leadership teams and organizations include diverse perspectives in decision-making, innovative and creative approaches and solutions, balanced organizational management and improved financial performance.
Encourage an open-minded leadership style and create programs to identify and nurture high-potential employees. By developing talent and creating a supportive environment, participants will organically influence and enhance total employee engagement and loyalty.
No. 3 - Create a "Possibility Portfolio" of qualified candidates
The MI study also noted that it is especially important to begin building a diverse culture at the time of hiring. This can be achieved through requiring diverse hiring panels, and holding hiring managers responsible with measurable objectives. A large variety of candidates is also key to maximizing benefits. The bigger the "Possibility Portfolio," the more diverse your team will be, which means more possibilities for unique ideas.
One way to encourage qualified candidates to apply is to get involved and network at organizations, like the local chamber of commerce, or local industry groups. Another idea is to host an open house at your facility on "Manufacturing Day," a day on which the nation annually celebrates our country's manufacturers. This year it is slated for October 6. More than 96 manufacturers have already signed up to open their doors and address common misconceptions about manufacturing and show off their work in the process.
No. 4 - Flexibility in working arrangements and family care is key
Scheduling flexibility, such as telecommuting, modified daily work start and end times, part-time scheduling and a compressed work week empower employees to strike the right work-life balance that will improve morale and inevitably increase productivity. It also frees employees from office distractions. Global Workplace Analytics found that as much as 80 to 90 percent of the U.S. workforce would like to telework at least part of the time.
For many people, starting a family is one of life's biggest personal goals. In the U.S., it's no secret that we lag behind most of the industrialized world in paid parental leave. To address this issue — and attract more women to the manufacturing industry — companies could expand maternity leave beyond the typical six weeks and give fathers more paid time off to help their wives care for newborns. In addition, part-time workers and surrogacy plans could be considered in your organization's standard benefits package.
No. 5 - Make community service a business goal
Seek out leaders of charities that mesh well with your organization and mission statement and learn how your employees can help. Dedicate a day for most of the team to be able to participate. If you're unable to sacrifice an entire day, consider sponsoring local fundraisers such as walk-a-thons, tree-plantings or other just causes that will positively impact your community. Acts of corporate social responsibility attract qualified candidates who see that your team genuinely cares.
There is no such thing as local anymore, with our world becoming more deeply connected every day. More diverse companies are successful because the insight achieved by diverse individual experiences is invaluable to innovation and critical thinking, and inevitably leads to better performance and bigger profits. It's never too early to start widening the lens and seeing the opportunity that diversity in recruitment and leadership bring to the table.
Patrick Conley is Director of Strategic Accounts at Edgenet.