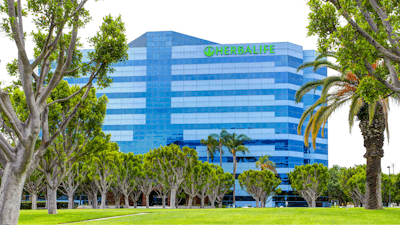 iStock
According to recent research, the global personalized nutrition market was valued at USD $5.59 billion in 2018 and is expected to reach an astounding USD 11.35 billion by the year 2026.
We continue to see an ever-increasing trend toward healthier foods, made from ingredients found in nature that protect the planet and its inhabitants. And, as more and more consumers are selecting food based on their individual definitions of 'healthy', enter the age of personalized nutrition where science and technology can dictate what food is right for us—not only for weight management but, more importantly, to support our overall health and wellness.
That said, although much of this growth has been driven by an increase in consumer demand for health and wellness products. Historically, this hasn't always been the case.
Herbalife Nutrition, for 40 years, has been helping people live healthy lives through nutrition and we've seen numerous changes throughout that time. Changes that have been driven by consumer demand, or by legislation and regulation, or the implementation of innovation and technology. The purpose of these changes have been to improve consumer safety.
They have been embraced by the industry and pioneered by companies like Herbalife Nutrition who have taken a leadership role, making great investments in scientific development, technology, analytical science and manufacturing. Companies now have better and safer products and as the numbers show, have helped to increase consumer trust and use of nutritional products.
A Focus on Safety & Quality
The 1980's was a decade that could be characterized as the "birth of quality management", partially in response to unforeseen crises and partially because of developments in analyticial and manufacturing technology. While there was much support from consumers, the nutrition business being in its infancy, had few alternative nutrition options. .
At this time, regulations in the United States for foods, and what would later be called "dietary supplements" were much less comprehensive than today. Although there were regulations for approving food additives and for protecting consumers from adulterated and contaminated foods, many quality standards had not yet been developed.
On the manufacturing technology front, smart cameras were developed, and manufacturers began using machine vision systems to identify characters and dates, and conduct code verification.
In 1982, in an effort to protect consumers, the FDA issued tamper-resistant packing regulations to prevent poisonings, spurred by deaths from cyanide placed in Tylenol capsules. This was important regulation for all packaged consumer goods manufacturers, leading to the Federal Anti-Tampering Act, approved by Congress in 1983, making it a crime to tamper with packaged consumer products.
It wasn't until the 1990s that the industry saw some of the greatest advancements in helping build consumer awareness and education.
It wasn't until the Nutrition Labeling and Education Act was signed into law in 1990 that all packaged foods were required to bear nutrition labeling and all health claims for foods to be consistent with terms defined by the Secretary of Health and Human Services.
The law preempted some state requirements for food standards, nutrition labeling, and health claims and, for the first time, authorized some health claims for foods. As part of the act, food ingredient panel, serving sizes, and terms such as "low fat" and "light" were standardized.
In 1994, the Dietary Supplement Health and Education Act (DSHEA) established specific labeling requirements, provided a regulatory framework, and authorized FDA to promulgate good manufacturing practice regulations for the industry. This act defined "dietary supplements" and "dietary ingredients" and classified them as a subset of foods.
The act also established a commission to recommend how to regulate claims. Additionally, it confirmed that manufacturers and distributors of dietary supplements and dietary ingredients were prohibited from marketing products that were adulterated or misbranded. That meant that these firms were responsible for evaluating the safety and labeling of their products before marketing to ensure that they met all the requirements of DSHEA and FDA regulations.
Together with the passing of the Food and Drug Administration Modernization Act in 1997, we saw the birth of the nutrition industry as we know it today.
As the new millennium rolled around, the impact of the previous decade's regulations helped build a foundation for consumer trust as companies continued to beef up their quality assurance processes. Government agencies continued to refine rules and regulations to help protect and educate.
It was not until 2006 that the industry would begin experiencing true change. On December 22, 2006, the President signed into law the Dietary Supplement and Nonprescription Drug Consumer Protection Act, which amended the Federal Food, Drug, and Cosmetic Act (FD&C Act). For the first time in US regulatory history, the Nutrition industry would be held accountable for safety surveillance and mandatory serious adverse event reporting to FDA (effective December 22, 2007).
In addition, the FDA issued in June 2007 the Dietary Supplement Current Good Manufacturing Practices (cGMP). In essence, the cGMP required that the proper controls be in place for dietary products during manufacturing, packaging, labeling, and holding operations. Large companies manufacturing and/or distributing dietary products, were expected to comply with the new regulations. And by 2009, all companies manufacturing and/or distributing dietary products, were required to comply.
These two major regulatory milestones would pave the way for industry to develop more comprehensive and standardized practices for ensuring consumer safety and product quality, both critical components for building consumer trust and regulatory parnterships for good stewardship.
Along with the industry, Hebalife Nutrition experienced great change during these years. Founded in 1980 to sell food and nutrition products, the company had a clear desire to lead the industry in quality, and eventually invested more than $300 million into scientific development, manufacturing facilities and technology, and by 2009 it established its second innovation and manufacturing facility, in Lake Forest, California.
The Company has made significant investments in technology, purchasing advanced testing equipment that was not currently being used by the industry, including a nuclear magnetic resonance (NMR), Mass spectrometry high performance liquid chromatography equipment (LCMS) , next-generation sequencing (NGS) equipment and other cutting edge technologies. The recent investment in these sequencing technologies has diversifyied the Company's Genomic/DNA laboratory to improve DNA analytical techniques for processed botanicals, including extracts, making it one of the only nutrition companies in the world to have its own comprehensive program to completely characterize botanical ingredients.
The Rise of Industry 4.0
This most recent decade has been a wake-up call for those manufacturers who have not seized the opportunity to invest and improve their manufacturing processes, product claims and quality control systems. The FDA kicked off the decade in 2011 by introducing one of the most sweeping regulations, 21 CFR Part 117.
This regulation, also known as the Food Safety Modernization Act (FSMA), provided the FDA with new enforcement authorities related to food and food safety standards, also giving them the tools to hold imported foods to the same standards as domestic foods, and directing FDA to build an integrated national food safety system in partnership with state and local authorities.
But regulations and legislation alone are not the answer to improving food quality and food safety. It is imperative that companies, academia and government partner up for the greater good and the benefit of the consumer. Those who can, have an obligation to the industry and consumers to commit to scientific research, transparency and accountability.
Examples of such partnerships include The Research Alliance, a partnership with The University of Guelph, a comprehensive public research university in Canada and leader in food science investigation. The Research Alliance, of which Herbalife Nutrition is a founding member, is designed to develop new, mutually agreed standards for the industry, including:
Creating new industry standards for botanical species ingredient authentication, as current standards rely on testing protocols that identify chemicals, not necessarily species in the ingredients.
Developing the Standard Reference Materials (SBRM) library for natural ingredients.
Producing a portable molecular diagnostic tool that can be used on-site by industry stakeholders, thus reducing the costs associated with species testing.
I believe that companies who have committed great amounts of resources, including manpower and financial investment to these systems, have created an atmosphere of transparency and earned consumer trust, positioning themselves for the next decade as industry leaders.