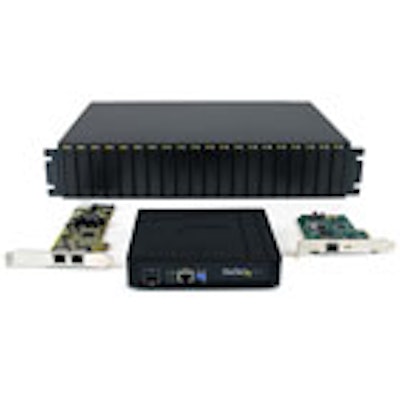 Lockbourne, OH - StarTech.com, a leading manufacturer of hard-to-find connectivity parts has announced the release of several new Gigabit networking products which enable users to integrate GbE technology into an existing infrastructure. The releases include four new products, expanding StarTech.com's extensive list of Gigabit Ethernet connectivity devices.
The line-up of new Gigabit Ethernet products include:
ETCHS2U – A 20-Slot, 2U Rackmount Media Converter Chassis, compatible with StarTech.com ET Series 2 media converters, which enables users to consolidate fiber media converters into a network rack or cabinet. Features include built-in 200W power supply, two optional cooling fans.
ET1110PSE – An open-SFP Gigabit Ethernet Fiber Media Converter which creates an Ethernet-Fiber link while acting as a Power Sourcing Equipment (PSE) device. Features include open-SFP slot design that allows users to install the SFP of choice.
PEX1000SFP – A PCI-Express-based Gigabit Fiber Network Card, which lets users connect a PC to a fiber network, using the Gigabit SFP of choice.
ST2000PEXPSE – A Dual-Port Gigabit Network Card which adds two PSE-capable Power-over-Ethernet Gigabit ports to a PC through a PCI Express expansion slot.
"The expansion of our Gigabit networking product line provides IT professionals with more options to build high speed GbE networks in various environments." said Carey Cline, Senior Product Manager for StarTech.com's Networking I/O product line. "These products help to simplify the task of meeting the growing demand for Gigabit network connectivity, while delivering maximum versatility for future network growth".
StarTech.com Gigabit Networking products are available for purchase from leading technology resellers including CDW, Newegg.com, Amazon.com, PC Connection, and Insight and will also be distributed by Ingram Micro, SYNNEX, D&H, Tech Data and ASI.
For pricing and additional information about StarTech.com Gigabit Ethernet Networking products, please visit https://www.startech.com/en-us/technology/gigabit-ethernet.
---
About StarTech.com
StarTech.com is an ISO 9001:2000 registered manufacturer of hard-to find connectivity parts including A/V products, computer parts, cables and server management solutions. Founded in 1985, StarTech.com has locations in the United States, Canada, The United Kingdom, Europe and Taiwan, servicing a worldwide market.