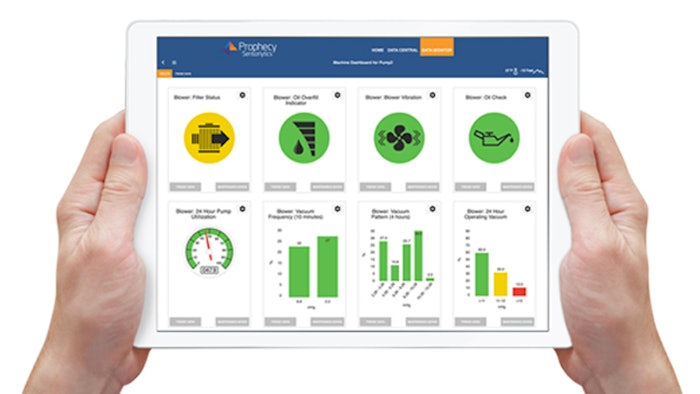 Prophecy Sensorlytics this week introduced a new sensor that monitors and reports on pump operations.
Prophecy Sensorlytics' PumpSense sensor-based system is predictive diagnostics technology to alert pump/blower users to developing problems and prescribe timely fixes without the need for outside support, expertise or data analysis. 
The new solution is designed for integration by OEM pump manufacturers. PumpSense generates easy-to-understand graphics and text-based actionable maintenance advice before issues can escalate.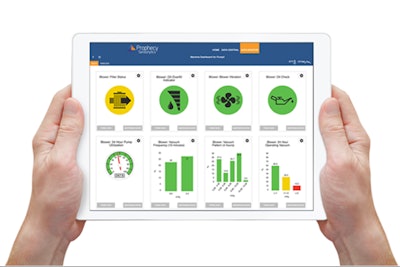 The PumpSense system is aimed at pump/blower applications across industries, including agriculture, electronics, environmental, food and beverage, medical, mining, paper and printing, pharmaceuticals, plastics, and textiles, among many others. 
According to a press release, OEMs attach PumpSense sensors to a pump or blower housing at the factory. When the system is delivered and on-line with the end user, the sensors automatically and continuously monitor and measure filter status, oil status, pump utilization, and vacuum or pressure level trends in real time. 
On the back end, patent pending analytic software collects the sensor data, compares the data against pre-determined baselines, and pushes the data into a dashboard displaying machine, component, or condition information. The system can then deliver maintenance recommendations based on the actionable intelligence, which the company says can head off potential problems that otherwise could impact productivity and profitability.
The new products from Prophecy Sensorlytics are in line with a variety of different monitoring solutions that aim towards the "consumerization" of the Industrial Internet of Things.
Last month, Manufacturing.net reported on the launch of Swift Sensors, a company that makes a suite of sensors capable of measuring things like vibration, temperature and humidity.