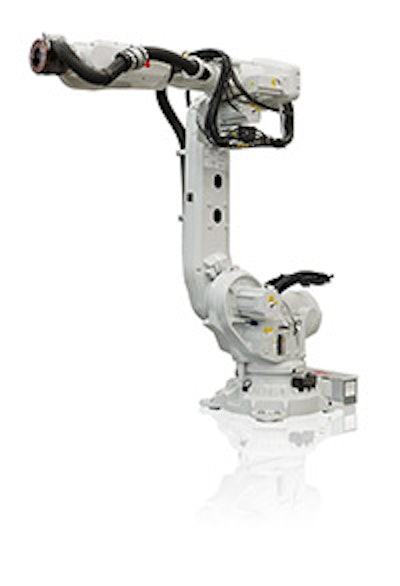 Auburn Hills, Mich. (Manufacturing.net) — ABB Robotics has recently introduced the IRB 6700 robot family, which is available in payloads from 150 to 300 kg, and reaches from 2.6 to 3.2 meters. They are designed for spot welding, material handling and machine tending. The new models offer a 15-percent reduction in power consumption, and a 20-percent reduction in total cost of ownership due to optimized maintenance requirements.
ABB is also rolling out Lean ID to each model, which helps achieve a balance between cost and durability by integrating the most exposed parts of the dress pack into the robot. The system makes it easier to program and simulate with predictable cable movements, creates a more compact footprint, and lengthens service intervals due to lessened wear and tear.
Other features include:
Collision resistant with moment of inertia capabilities and highly accurate next generation motors.

Longer service intervals and highly accessible components to lower costs.

The option to use ABB's ultimate Foundry Plus 2 protection system.
To learn more, visit www.abb.com.