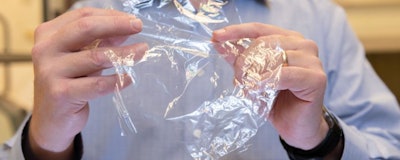 AMERIPEN, a public policy group for the packaging industry, is calling for a collaborative effort to formulate a comprehensive U.S. strategy for 100 percent reusable, recyclable, or compostable packaging in line with a global commitment spearheaded by the Ellen MacArthur Foundation.
The foundation seeks to eliminate plastic waste at the source by:
Eliminating problematic or unnecessary plastic packaging and moving from single-use to reuse packaging models
Ensuring 100 percent of plastic packaging can be easily and safely reused, recycled, or composted by 2025
Circulating the plastic produced, by significantly increasing the amounts of plastics reused or recycled and made into new packaging or products
AMERIPEN and the U.S. Chamber of Commerce Foundation brought together more than 20 thought leaders from across the U.S. packaging value chain on September 28 to discuss how to navigate the changing packaging landscape and achieve lasting improvements. The group explored what will be needed to create a 'Made-in-the-U.S.' strategy to help brands, retailers, and others seeking to achieve circular packaging goals.
"A collective, comprehensive U.S. strategy is essential so we can tackle infrastructure challenges, leverage innovation and scale, and develop policies that support movement toward achieving aggressive packaging targets," said Lee Anderson, AMERIPEN president. "Packaging has a vital role to play in adapting to emerging trends associated with e-commerce and food waste reduction, both of which are heavily reliant on multi-material plastics that are, at present, not suitable for traditional mechanical recycling. We must work together to ensure understanding of challenges, options and unintended consequences as we create policies and processes."
As consumer interest in eliminating such plastic waste escalates, companies are setting measurable goals for packaging content and disposal, governments are advancing policies, and interest groups are encouraging bold change.
AMERIPEN, which represents North American packaging interests in public policy initiatives, plans to continue the dialogue with plans to host additional events in 2019, helping support its members on key issues related to public and private investments, market development, consumer education, and measurement of progress toward packaging commitments.
On October 29, a global commitment to eliminate plastic waste and pollution was signed by more than 290 organizations, representing 20 percent of all plastic packaging produced globally. It was officially unveiled by Ellen MacArthur at the Our Ocean conference in Bali.
(Photo credit: Allison Carter, Georgia Tech)