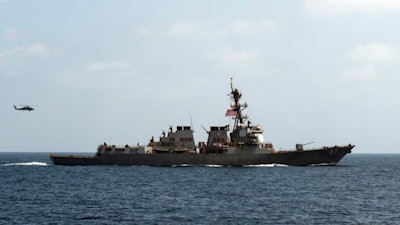 The U.S. Navy says it's awarded a ship's $3.9 billion contract to Bath Iron Works to build four new destroyers.
The Navy announced Friday that it awarded the contract to the Bath shipyard as part of a plan to build 10 new Arleigh Burke-class destroyers. Competitor Huntington Ingalls of Mississippi will build six destroyers.
The contracts contain options for additional ships if Congress appropriates more money.
The Bath shipyard will build the destroyers over four years.
The shipyard this year successfully fought to receive $45 million in non-refundable state tax credits over 15 years, down from $60 million over 20 years as originally proposed.
The shipyard employs 5,500 workers and says it wants to stay competitive with the Mississippi shipyard as it bids to build the Navy's new frigate.