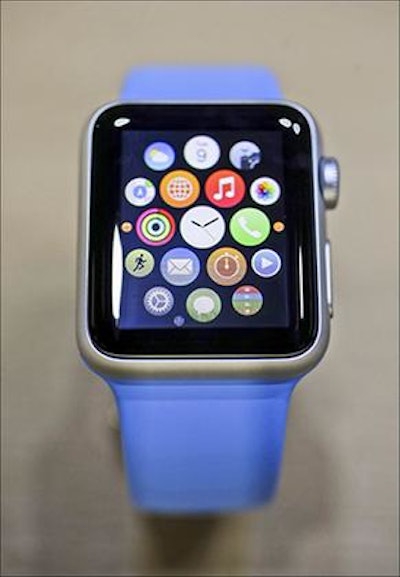 SAN FRANCISCO (AP) — Apple wants to move the Internet from your pocket to your wrist.
Time will tell if millions of consumers are willing to spend $350 on up — there's an 18-karat gold version that starts at $10,000 — for a wearable device that still requires a wirelessly connected smartphone to deliver its most powerful features.
But CEO Tim Cook is selling the Apple Watch as the next must-have device, able to serve people's information needs all day long, like no other tool has quite been able to do.
"Now it's on your wrist. It's not in your pocket or pocketbook," Cook said before unveiling the new line on Monday. "We think the Apple Watch is going to be integral to your day."
Apple wants this wristwatch — which piggybacks on a nearby smartphone's Internet connection through Wi-Fi or Bluetooth — to be seen as so revolutionary that it requires its own new lingo.
So while the watch face provides most of the same information as smartphones do, the back of the watch sends "taptic feedback," tapping the wrist to remind the wearer to get up and burn more calories.
"It's like having a coach on your wrist!" gushed Cook, touting the potential health uses of a computer that sticks to your skin all day.
The gadget also introduces "digital touch," a new way of messaging that enables people to draw and send little figures with their fingertips and have them arrive on a friend's watch face dynamically, in the same way they were drawn.
Convincing consumers they can't live without an expensive new device isn't easy, but Apple's strongest selling points include "convenience and immediacy," along with high-end design features and some useful new apps, said Carolina Milanesi, a tech analyst with Kantar Worldpanel.
"If you don't have to be fumbling around for your phone, that can make a difference," agreed analyst Patrick Moorhead of Moor Insights and Strategy.
Initial consumer reactions ranged from die-hard Apple fans vowing to buy the watch immediately, to naysayers who don't see the point of paying so much to see updates on their wrist instead their smartphone.
"I think it's a tough market they are trying to get into, and I don't see much promise that is going to come out of it," said Joshua Powers, 21, a junior at Emerson College in Boston who owns an iPhone, an iPad and a MacBook computer.
As expected, the previously announced starting price of $349 is only for the entry-level Sport model. Prices range from $549 to $1,100 for the mid-range watch. That's not out of line for a high-quality watch, analysts said.
But Cook did not answer a key question for price-conscious consumers, Moorhead noted: How will Apple update the watch when it releases new models?
Apple did answer another vital question, promising an estimated 18-hour battery life before the watch needs to be taken off and attached to a magnetic recharger.
Numerous tech companies are already selling smartwatches, from the Samsung Gear and Motorola's Moto 360 to the Pebble Steel and other models made by smaller startups. Many run on Android Wear, the software platform from Google, and range from $100 to $500 or more.
But most don't have as many features as the Apple Watch, and they have not been big hits with consumers.
Apple executive Kevin Lynch walked through a simulation of a typical day, checking the watch for messages and calendar items, responding to a WeChat message, scrolling through some Instagram photos and speaking with Siri, Apple's voice-activated digital assistant, through the microphone on the watch.
More impressively, Lynch presented an airline app with a bar code that acts as a boarding pass, another app that opened a garage door by remote control, and still another that promises to enable wearers to check out at the grocery store with a single tap on the watch face.
Cook also showed off features that can be found on many fitness bands already on the market, such as a heart rate monitor and accelerometer that can track a wearer's movements and log daily exercise.
But some design functions seem uniquely Apple: Twist a small knob, and the wearer can quickly select the face of a friend, then sketch an image with a fingertip that shows up dynamically, just like it is being drawn, on the friend's watch face. Swipe the watch face to bring up an email, then with a single tap, turn that email into a calendar item.
Cook hinted at bigger goals when he announced Monday that Apple has worked with leading medical institutions to develop an open-source software platform for iPhones to assist with medical research. He stopped just short of saying that Apple Watch, in combination with the iPhone, could be a key conduit for two-way delivery of health care information, sending data about a person's metabolism to researchers while also reminding wearers to take their medicine or go exercise.
For example, Apple executive Jeff Williams showed a new iPhone app that can track indicators of Parkinson's disease by using a phone's accelerometer to measure a user's walking gait and its microphone to test for voice tremors. The watch also has both an accelerometer and microphone, so extending the app to the wrist would not be a major leap.
Apple reportedly studied the possibility of adding more sophisticated medical sensors to the watch, but held off because of technical and regulatory hurdles. If the watch catches on, however, Apple and medical device-makers will undoubtedly find ways to measure skin temperature, glucose levels or other indicators, said Murray Brozinsky, chief strategy officer at Healthline, an online health information service.
"If you're building those sensors right now, you're building them for hospitals. But you'd like to build more of them for 25 million Apple Watches," Brozinsky said.
Apple Watch will be available for viewing at Apple stores on April 10 and go on sale April 24.