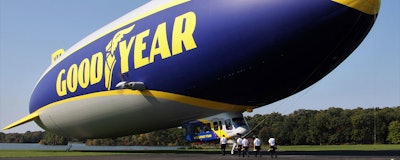 AKRON, Ohio (AP) — Goodyear says the second of three semi-rigid airships replacing its original blimps has left the company's hangar in Ohio for its permanent base in California.
Officials at the Akron-based Goodyear Tire and Rubber Co. say Wingfoot Two left the company's hangar in Portage County on Sunday on its way to the hangar in Carson, California, near Los Angeles. Wingfoot Two will fly over 10 states and make tour stops before arriving in Carson by the end of the month.
The Akron Beacon Journal reports the tire maker calls the new airships blimps. Purists say they look like the previous blimps and use helium, but are semi-rigid dirigibles with a fixed structure holding the balloon in place.
Goodyear says the new airships are easier to maneuver than the original ones.