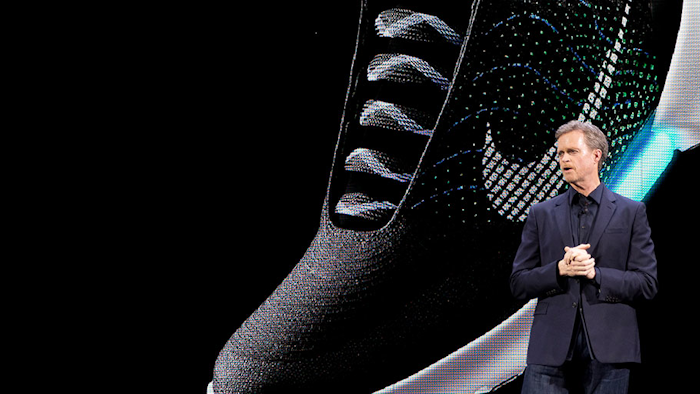 Nike just unveiled a self-lacing sneaker called the HyperAdapt 1.0, bringing consumers a step closer to the movie world of Back to the Future II.
The Nike HyperAdapt 1.0 has a sensor inside the shoes that detects when a heel slides in, causing the shoe to automatically tighten around the foot. Two buttons on the side of the shoe then allow the wearer to manually tighten and loosen the shoe until they reach the desired fit.
"When you step in, your heel will hit a sensor and the system will automatically tighten," explains Tiffany Beers, Senior Innovator, NIKE, Inc., and the project's technical lead. "Then there are two buttons on the side to tighten and loosen. You can adjust it until it's perfect."
While the adjustable laces on the HyperAdapt 1.0 can be manually controlled, Nike is hinting that much more automatic versions of the technology closer to what is shown in Back to the Future II could be on the way. In a statement, Nike shoe designer Tinker Hatfield says that a future sneaker could eventually sense when the wearer requires a tighter or looser fit and adjust on the fly. "That's where we're headed," he says.
The Nike HyperAdapt 1.0 will be available only to members of Nike+ beginning Holiday 2016 in three colors.
Check out the announcement video here: