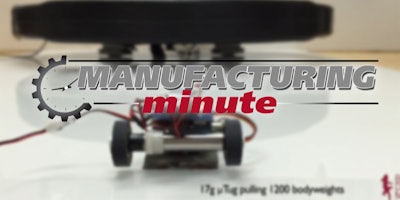 Researchers at Stanford University have developed microbots that (with their powers combined) are capable of towing extraordinary amounts of weight. In fact, just six of these tiny miroTug or uTug robots (each weighing around 0.2 pounds) are capable of tugging more than 2,000 times its own weight. Stanford researchers recently released a video of these tiny bots towing a 3,900 pound car.
Inspired by nature, these autonomous robots mimic ants who similarly work together to move incredibly large and heavy objects. The microTugs work by using a controllable adhesive (which was actually inspired by gecko toes) to apply an interaction force that far exceeds the bots' own body weight.
These Stanford researchers are schedule to present their findings at an international robotics conference in the coming months.
SO, WHAT DO YOU THINK?
How else could these mighty microbots be utilized within the industrial marketplace? Do you think biomimicry could inspire other automation-minded breakthroughs?
Email us or comment below.