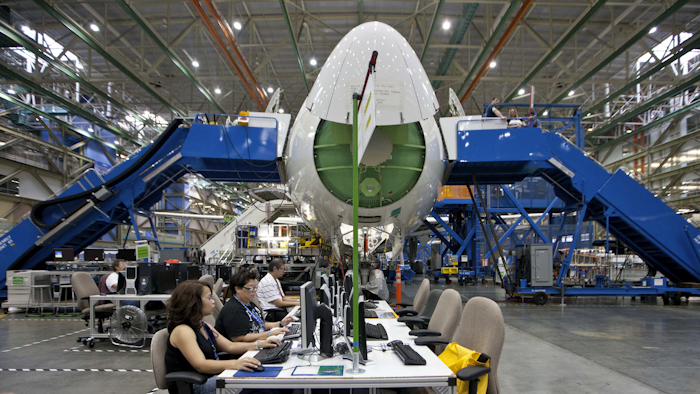 Aerospace industry observers largely praised Jim McNerney's tenure as CEO of Boeing for rebuilding the company's credibility and boosting its bottom line.

But in the aftermath of the news that McNerney would step aside for president and COO Dennis Muilenburg, one aspect of the business, in particular, appears to need improvement: labor relations.

Chicago-based Boeing saw record revenues and profits from orders for its new planes, but McNerney also oversaw dramatic cuts in benefits for union workers at the company's Washington State plants, along with the addition of a non-union facility in South Carolina and the shifting of thousands of engineering jobs from the Seattle area to other states.

McNerney's moves repeatedly drew the ire of unions, a pattern that resurfaced last year when he joked that Boeing workers would "still be cowering" when he reached the company's mandatory retirement age of 65.

One analyst said the company's recent relationship with unions put valuable experience and input at risk at a vulnerable time for Boeing.

"I can only think that any change will be for the better on that front, so that's good news," Richard Aboulafia of aerospace and defense research firm the Teal Group said.

The International Association of Machinists issued a blunt statement about the end of the McNerney era, which said that the union welcomed the announcement and encouraged Muilenburg "to invest in the workforce and recognize the value of each and every employee at the Boeing Co."

Muilenburg remained silent on his views regarding organized labor, however, and an IAM spokesman told Charleston, South Carolina's The Post and Courier that indications "point to a continuation rather than a departure from Boeing's current policies regarding workers' organizing rights."

The IAM is seeking to form a union at Boeing's North Charleston plant amid heavy opposition from both the company and local elected officials.

Most observers, meanwhile, said Muilenburg's primary challenges would involve maximizing Boeing profits following the tough decisions made during McNerney's 10-year term. The company hopes to develop a replacement for its 777 model plane, increase production of the 737 jetliner and convert the 787 plane into a profitable operation.

"Our path forward is one of consistency," Muilenburg said following the announcement. "You're going to see stability in our strategy and our execution."