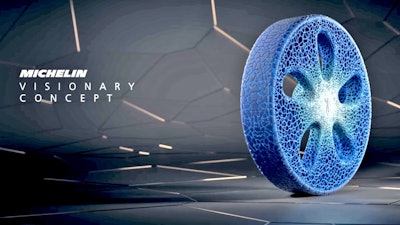 Michelin unveiled a unique prototype tire last week that officials said could bolster both safety and environmental responsibility.

Conventional tires can pose an environmental hazard long after they are removed from vehicles, but Michelin officials said that its Vision concept tire is made with biodegradable, bio-sourced materials.

The tire was also crafted, with the help of 3D printers, to optimize its tread based on driving habits — and thereby extend the tire's life.
In addition, the prototype tire uses an interior architecture instead of air, which would prevent the possibility of explosions or blowouts. Sensors installed in the tire, meanwhile, would provide information about its condition in real time and allow drivers to make service appointments with Michelin's mobile app.
The French tire maker said the project, which debuted at the company's Movin'On sustainability conference in Montreal, was established by the Michelin Corporate Innovation Board last fall and incorporated numerous existing Michelin R&D efforts.
As part of the project, Michelin surveyed dozens of people, from urban commuters to pilots to farmers, about their tire needs. Participants referenced both safety and sustainability in their discussions.

"Why choose between a fully biodegradable tire and a rechargeable tire?" the company wrote in a blog post. "Jean-Dominique Senard and the members of the Corporate Innovation Board said, 'Give us both.'"