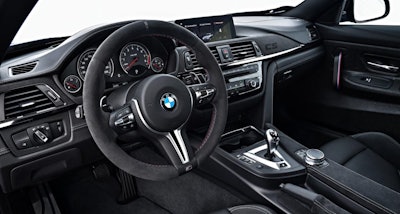 IBM announced this week that it will help BMW provide enhanced vehicle analytics to its drivers.

The German automaker last month unveiled BMW CarData, which aims to allow drivers of connected BMW vehicles to share customized data with third-party companies, such as auto repair shops or insurance companies.

IBM said Wednesday that it would be a pilot partner in the effort.

BMW CarData allows the roughly 8.5 million drivers with the BMW ConnectedDrive portal and a built-in vehicle SIM card to securely share a wide variety of data stored on BMW servers — from mileage to fuel consumption to automated service calls — with other parties.

The system incorporates IBM's Bluemix cloud platform as well as the tech giant's Watson IoT technology.

Company officials said that drivers could receive custom insurance coverage based on their exact number of miles driven, while repair shops could automatically order parts in advance of service appointments.
Eventually, BMW said that vehicles could provide personalized entertainment options to drivers.

IBM, meanwhile, will also provide a neutral server for additional automakers that hope to offer similar capabilities to drivers. The service is expected to launch later this year.

"The concept of a neutral server fosters innovation by establishing a single point of contact for multiple parties to access vehicle data from various manufacturers, thereby reducing integration cost whilst ensuring fair competition," Dirk Wollschlaeger of IBM's automotive division said in a statement.