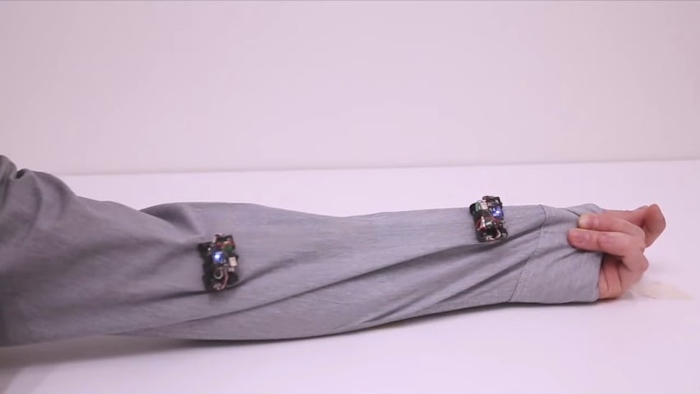 I knew my wardrobe was missing something.
When you think of wearable technology, many minds jump to exercise wristbands and health monitoring devices. Researchers at MIT and Stanford have lab tested wearable, miniature rovers that can climb all over your clothes. Now that'll definitely make a fashion statement.
Rovables are small robots that move across any unmodified clothing. This means you don't have to order a custom garment to don these fashionable critters. Your regular wardrobe will do just fine. The rovers were designed with magnetic gripping wheels, located on both the exterior and interior of the fabric. These magnetized wheels enable them to tightly cling to your shirt. Due to onboard sensors and the use of artificial intelligence, the machines are able to wander around semi-autonomously.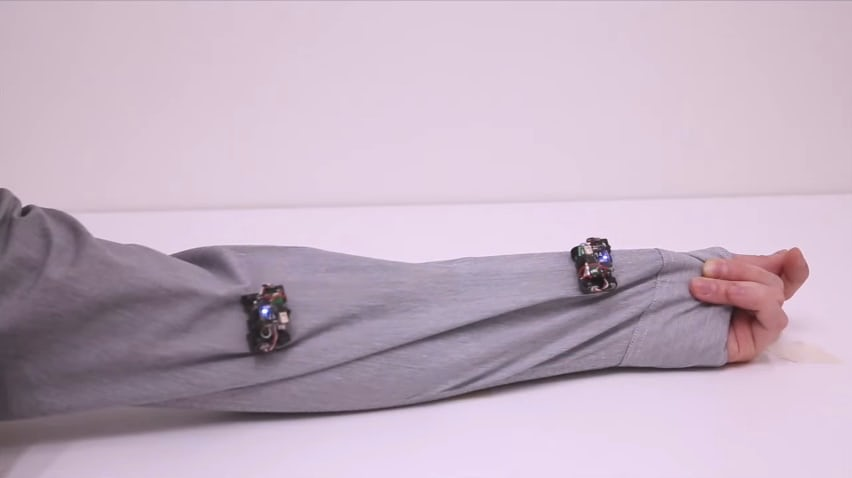 Right now, built-in batteries are powering the rovers, allowing for 45 minutes of continued activity. Because the robots don't necessarily maintain a constant stream of motion, their battery life should extend a few hours longer in length. The batteries have been specifically designed to wirelessly recharge.
I know you must be thinking, "What could possibly be the purpose for these wearable robots?" Well, the rovers will ideally move and scatter based on the user's needs. If you don't want their assistance, they could retreat to await instructions in your pocket or somewhere out of sight. They might potentially send an alert when you have an unnoticed mobile message, or swarm to stream a video whenever you're bored. If you're walking or riding through the streets at night, Rovables can assemble on your back and sleeves, forming a bright safety light display. 
The team hopes to improve the rover's ability to efficiently navigate 3D space. In order to achieve a high level of path-planning, the researchers must create a micro-controller that has sufficient processing power to undertake such complicated algorithms.  
Check out this wearable gadget in action in the video below.