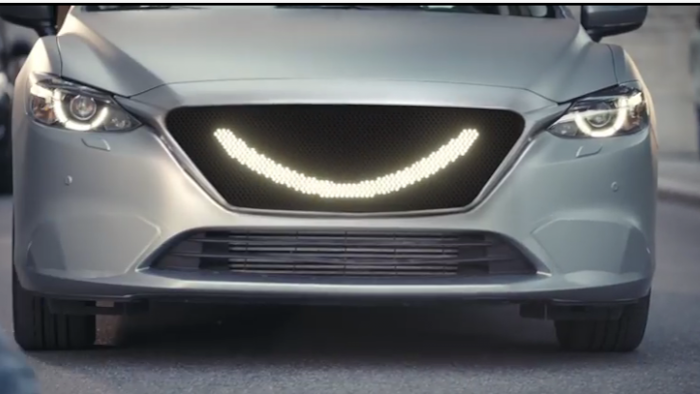 Autonomous cars may provide convenience for drivers, but pedestrians are often afraid of crossing in front of them.
This mistrust, Swedish tech company Semcon contends, comes from a lack of emotional connection. Its Smiling Car aims to provide a level of interaction with pedestrians – even if the driver is asleep or distracted.
"The strength behind the Smiling Car is that we allow people to communicate in the way they are used to, instead of taking an unnecessary detour via technology," said Karin Eklund, head of user experience for Semcon.
About 80 percent of pedestrians seek eye contact with a driver before crossing a busy road, but what if there is no driver?
"The Smiling Car is the first step in a long-term process in which Semcon, together with the research institute Viktoria Swedish ICT and partners in the automotive industry, wants to create a global standard on how self-driving cars communicate with their surroundings," said a Semcon statement. "This is something that does not exist today. Just as today, there are clear agreements on how cars must indicate when they change lanes, a common language for how self-driving cars will interact with humans is now needed."
Semcon is developing advanced sensors, including cameras with systems for eye-tracking technology or laser technology. These could make it possible for cars to perceive a person's head movements and read a gaze directed toward the car. This would trigger immediate feedback in the form of the car's digital smile.
Laser technology would make it possible for the Smiling Car to work in demanding environmental conditions like rain and darkness, and it might even assist with complex environments, such as roadways without pedestrian crossings.
The company is also investigating the use of audio signals to accompany the smile. Most self-driving cars will be electric and silent, meaning sound would be essential for pedestrian safety in a future dominated by self-driving vehicles. That future isn't far away. Business Insider predicts there will be about 10 million cars with self-driving features by 2020.