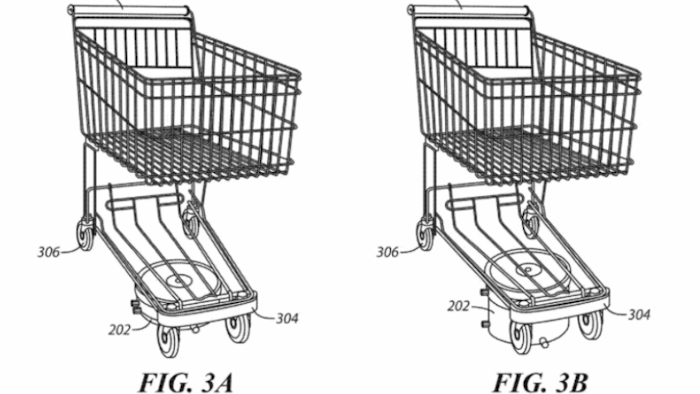 Finding a shopping cart without a sticky wheel feels like a major victory. Robotic shopping carts promise to take that wondrous feeling to the next level for hands-free shopping, help with pricing inconsistencies, and inventory inspection.
Wal-Mart has filed a patent application for a robotic device that can power shopping carts and perform other tasks. The superstore hopes cleaner aisles, automated carts, and better price transparency will help it compete with the order-in-your-jammies convenience of Amazon.
"In a modern retail store environment, there is a need to improve the customer experience and/or convenience for the customer," said the patent application. "Whether shopping in a large format (big box) store or smaller format (neighborhood) store, customers often require assistance that employees of the store are not always able to provide."
Wal-Mart, which has a history of labor issues including battles with labor unions, pointed to high labor turnover rates and a lack of proper employee training to justify the robotic carts.
"Other routine tasks also are difficult to keep up with, particularly during peak hours," the patent said. "For example, shopping carts are left abandoned, aisles become messy, inventory is not displayed in the proper location or is not even placed on the sales floor, shelf prices may not be properly set, and theft is hard to discourage."
These things, Wal-Mart contends, can be helped with a robotic device that looks a bit like a large Roomba. The device fits beneath a shopping cart. It can respond to voice commands, so its function is not simply driving carts.
Wal-Mart hopes the added convenience of self-driving, inventory-helping robots can pull customers off their couches and away from online emporiums.