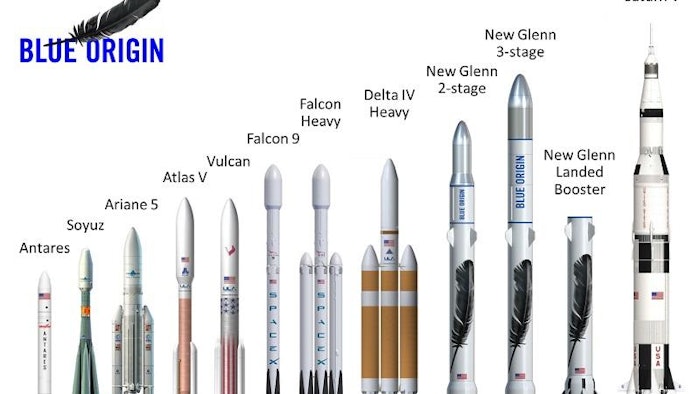 In their quest to corner the space tourism business, Blue Origin has tested a re-usable rocket and gone against the grain by placing an escape motor underneath the capsule on its New Shepard vehicle.
Now, they've announced the New Glenn, a reusable, vertical-landing booster that produces 3.85 million pounds of thrust. The Jeff Bezos-owned company hopes to launch the new rocket before 2020.
"Our vision is millions of people living and working in space, and New Glenn is a very important step. It won't be the last of course. Up next on our drawing board: New Armstrong. But that's a story for the future," Bezos said in an email announcing the new project.
Like the United Launch Alliance's Vulcan rocket, the New Glenn is powered by BE-4 engines. In this case, there are seven of them, burning liquid hydrogen and liquid oxygen. New Glenn is named for John Glenn, the first American to orbit the Earth.
The New Glenn will come in two versions, one almost as large as the historic Saturn V. The three-stage New Glenn is 313 feet tall, while the two-stage version is 270 feet tall. Both are the same from the second stage down, with the second stage powered by one BE-4 engine. However, the third stage's high specific impulse hydrogen upper stage is able to travel beyond low Earth orbit.
Blue Origin will test New Glenn for the first time before the end of the decade. While their previous tests with New Shepard took place at their West Texas facility, the next will take place at NASA's Launch Complex 36 at Cape Canaveral in Florida.
"Our mascot is the tortoise," Bezos wrote in the email. "We paint one on our vehicles after each successful flight. Our motto is "Gradatim Ferociter" – step by step, ferociously. We believe "slow is smooth and smooth is fast." In the long run, deliberate and methodical wins the day, and you do things quickest by never skipping steps."
New Shepard is expected to be available for wealthy tourists in 2018. It will travel to 329,939 feet in altitude, at the edge of outer space.