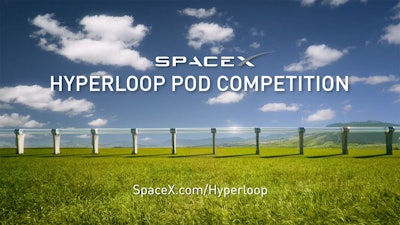 SpaceX, run by the all-knowing Elon Musk, launched a Hyperloop pod competition, with big incentives last year.
But, et's back track a bit. The original Hyperloop concept was made public way back in August of 2013 by Elon Musk. Musk released a preliminary (alpha level — design document), with considerable design assistance from a group of engineers at both Tesla Motors and SpaceX. The informal group worked on the conceptual foundation and modeling of the Hyperloop.
Fast forward to June 15, 2015, SpaceX announced that they would sponsor a Hyperloop pod design competition and would build a 1-mile-long subscale test track near SpaceX's headquarters in Hawthorne, California, for the event.
The competition is sponsored by SpaceX and is being held from 2015 to 2016. A number of student and non-student teams are participating to design, and for some even to build, a subscale prototype transport vehicle in order to demonstrate technical feasibility of various aspects of the Hyperloop concept.
Out of 115 teams that submitted designs in January, 30 of the teams were selected to build hardware to compete on a sponsored Hyperloop test track in mid-2016. In fact, in the very early stages of the competition, there were more than 1,000 applicants.
The competition is open to participants globally, although all judging will occur in the United States. It's comprised of two judging phases: a design competition that was held back in January 2016 and another competition that was due to be held in mid-2016.
Plans have since changed, and on July 15th, SpaceX posted an update for teams:
"We know everyone is really excited to show off their designs, but many have also told us that you'd like more time to refine your designs. We've listened to the teams' feedback, and to maximize the number of participating teams, Competition Weekend will be held on January 27-29, 2017."
After the 2016 competition officially concludes, SpaceX will likely hold similar events in the years to come.