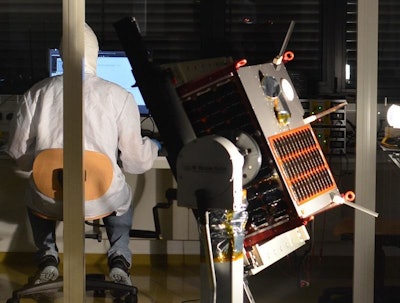 Two years ago, NanoSystems debuted "the world's darkest material." Vantablack is a light-absorbing carbon nanotube matrix, which can be applied as a coating to stable surfaces. Now, it's been used onboard a satellite, replacing the black paint formerly used to coat the components and improving the satellite's efficiency.
Vantablack coating was used on the Kent Ridge 1 satellite, a low earth orbit microsatellite designed by Berlin Space Technologies and the National University of Singapore. When placed inside the star trackers, the coating minimizes the interference that comes from stray light in the interior. With its carbon nanotube structure, the coating traps 99.8 percent of the light that hits its surface and extends the range at which the star tracker is able to operate when in the presence of bright objects like the Sun and Moon. (The star tracker is used to determine and control the satellite's position.)
"A star tracker's performance relies on achieving high sensitivity," said Tom Segert, director of Business Development for Berlin Space Technology. "We believe that Vantablack will reduce the effects of many common sources of error that affect the performance of star tracker systems – allowing the star identification algorithm to function over a considerably wider range than before."
It also reduces the need for gyroscope-aided position control, which can sometimes introduce drift errors and improves the robustness of the Earth observation instruments.
Installing the Vantablack was tricky, though, since Berlin Space Technology found out about it only weeks before the satellite design was supposed to be frozen. Surrey NanoSystems had five weeks to coat the satellite baffles. In order to speed up the process, they used a version of Vantablack that could essentially be spray-painted onto the surface of the baffles.
"The Vantablack coating was originally developed to improve the efficiency of optical systems in space, and this BST satellite project gives us a very early opportunity to prove its performance," said Ben Jensen, chief technology officer of Surrey NanoSystems. "The material can be used to improve the performance of satellites, but also to dramatically reduce weight and size of optical systems - which could be crucial for future space missions."