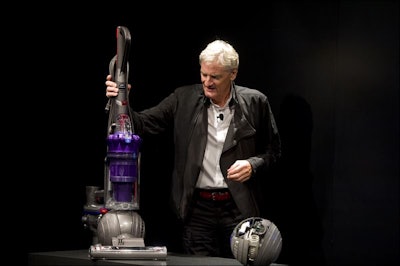 Nearly seven months after Dyson acquired a Michigan battery startup, reports suggest that the British vacuum maker is poised to enter the automotive industry.

In October, Dyson purchased Ann Arbor-based Sakti3 for $90 million and announced plans to invest up to $1 billion in a new battery plant.
Company founder James Dyson said at the time that he hoped Sakti3's pioneering solid-state batteries would extend the battery life of its cordless vacuums, but reports earlier this year showed that the company received U.K. government funding to help develop an electric vehicle.

This week, The Guardian reported that patent filings showed a Dyson vehicle with a solid-state battery, and one expert told the paper that the company could successfully challenge Tesla and conventional automakers in the electric vehicle market.

"Dyson have some excellent product engineering and some excellent marketing skills, so could they follow the same path as Tesla?" Warwick University's David Greenwood told The Guardian. "Well, yes, probably they could."

Solid-state batteries, unlike conventional lithium-ion batteries, will not overheat and do not require expensive fire safety features. They could also last far longer and charge in a matter of minutes.
Dyson joins numerous automakers, suppliers and tech companies that are also working on solid-state batteries.

They likely remain at least 10 years away from being implemented in commercial vehicles, but experts believe they could prove decisive to the widespread adoption of electric vehicles.

Tesla anticipates that its forthcoming mass-market electric vehicle will exceed 215 miles of range on a single charge, but experts suggested that solid-state batteries could hit 350 miles per charge.