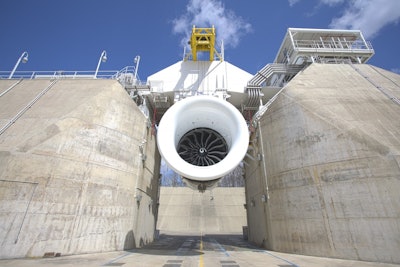 For the first time, General Electric fired the world's largest jet engine this month.
The giant assembly is set up at GE Aviation's jet engine test operations site located in Peebles, Ohio. The GE9X engine, which will be used for the next-generation 777X jet, has a front fan with a world record 11 foot diameter.
Some of its parts were built through additive manufacturing (or 3D printing), grown from the bottom down into convoluted shapes that would not be possible with traditional manufacturing. Customizing the internal shapes of the design is critical for an engine like this, and GE Aviation spokesperson Rick Kennedy calledthe interior of the jet "a closely guarded secret."
"These tunnels and caves are a closely guarded secret. They determine how the fuel moves through the nozzle and sprays inside the combustion chamber."
The fuel nozzles are 3D printed, as are several other parts made from ceramic matrix composites. These composites can withstand temperatures of 2,400 degrees Fahrenheit. The heat which can be generated inside the engine cuts down on fuel burn and emissions while also making the engine run more efficiently.
Another key to generating the engine's 100,000 pounds of thrust is the 16 carbon fiber fan blades at the front of the engine, which draw air into an 11-stage high-pressure compressor with a 27:1 pressure ratio. Although this isn't a record for the amount of thrust produced by an engine (that's 375,000 pounds of thrust from one space shuttle main engine) it is the highest pressure ratio available in a commercial engine.
The GE9X engine is currently undergoing testing, and is expected to be in use by the end of the decade. GE Aviation has received orders for over 700 GE9X engines for the 777X from airlines around the world.