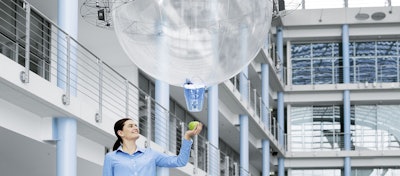 At first glance, the newest development in autonomous flying delivery craft looks like a transparent beach ball. But the FreeMotionHandling craft — created by the Festo Bionic Learning Network — could be the latest tech to transform the workplace.
The indoor-only craft comprises a large helium-inflated ball surrounded by an ultra-light carbon ring. With eight adaptive propellers — four mounted horizontally and four vertically — the indoor flying object can move in any direction.
The rotatable ball is equipped with a form-fitting gripping element, which is modeled after a chameleon tongue, to pick up and transport small objects. A rope winch draws an object inside the ball, within the gripping compartment, and then the ball's pressure pushes the item out upon delivery.
Although no pilot is required, Festo assures that "man and ball can interact safely with one another and without problems at any time."
On-board cameras and indoor GPS guide the UAV to both the delivery object and the destination, using infrared lights to mark the craft and infrared cameras to track its location.
"In the future," Festo's website states, "people could be supported by the spheres, using them as a flying assistance system — for example, when working at giddying heights or in hard-to-access areas."
Do you think this Festo inflatable is an adequate solution for indoor deliveries? Could your workplace benefit from this technology? Comment below or tweet @KatieeMohr.