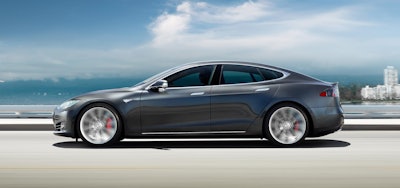 Tesla is reportedly planning to incorporate its sophisticated air filtration system into a more luxurious version of its Model S sedan.

The air system — dubbed "Bioweapon Defense Mode" by the electric vehicle manufacturer — was unveiled with the introduction of the Model X SUV last fall.

CEO Elon Musk said at the time that activating the system could help "if there's ever an apocalyptic scenario of some kind," but more practically, it filters pathogens, allergens and smog at much higher rates than standard air filters.
The filtration system and a larger battery could be available on the Model S as soon as this week, The Verge reports.

CNET reported last week that Tesla was considering a slew of updates to the Model S in order to broaden its appeal to luxury car shoppers — particularly if many of the company's prospective customers opt for the new Model 3.

The Model 3, introduced earlier this month, is fully electric and can travel more than 200 miles on a single charge. The starting cost of the Model 3 is less than half the cost of the Model S.