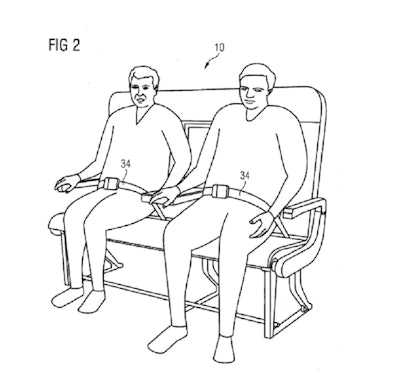 Airbus has filed a patent for bench-style seating that could carry varying groups of passengers, including overweight fliers, more easily.
The patent for the "Re-Configurable Passenger Bench Seat," was published Feb. 11 by the U.S. Patent and Trademark Office, according to a report by the Consumerist. The patent explains that the special seat could be arranged in three configurations: 1) to transport two overweight individuals, 2) to carry three average-sized adults or 3) to seat two adults and two children.
Regardless of configuration, Airbus' proposed bench would feature a backrest, the seat itself, a fastening rail and seatbelt system. The placement of the seatbelt would dictate which of the three configurations would be used. In addition to making flight more comfortable for two overweight passengers, the patent suggests that the first configuration is ideal for passengers with limited mobility or for travel in business class. Airbus said the second configuration could best be used for economy class seating and would provide sufficient room for three adults that don't need extra space.
The third configuration, as suggested earlier, would best fit two adults that are bookending two small children.
Additionally, Airbus has also filed a patent for seats featuring more storage beneath the passenger, according to a Daily Mail report. Airbus said the seating arrangement would best be used in aircraft but could also be incorporated into buses, trains and even cars.
"In means of transportation, in particular in a cabin of an aircraft, stowage and/or storage space is usually rather restricted and scarce," Airbus said, according to the Daily Mail. "Thus, an efficient and optimum use of the available stowage space may be regarded important from an economic point of view."
Though the extra storage space afforded by Airbus' imagined seating would be a boon, it could also lead to decreased legroom, the Daily Mail added.