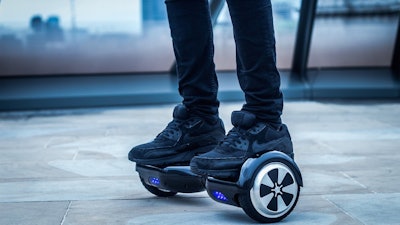 Amazon has removed most, though not all, of the brands of hoverboards from its site following an increased number of reports about hoverboards exploding or catching fire. The move was first noted by BestReviews.com.
According to USA Today, leading hoverboard-maker Swagway said that the e-commerce giant has requested that all companies manufacturing the self-balancing boards verify their products safety.
"As safety is on the forefront for Swagway, we applaud Amazon for taking these steps to weed out the low quality boards," reads a statement from Swagway. The statement also noted that the removal was not specific to Swagway's product but also includes 97 percent of the other branded hoverboards previously sold on Amazon's website.
The Huffington Post reports that there have been nearly a dozen reports of hoverboards catching fire this year.
The Consumer Product Safety Commission suspects that the lithium ion batteries used to power the boards is the source of the problem.
According to The New York Times, the commission has also logged 29 emergency room visits resulting from malfunctioning hoverboards.
"We're actively testing samples of hoverboards in our lab, both new ones and those involved in accidents," said the commission's Deputy Director Patty Davis.
Davis also recommended that consumers who have purchased a hoverboard not charge it before wrapping it or placing it under a tree as a precaution.
Less than a week ago, the U.S.'s largest airlines — American, Southwest, Delta and United — all banned hoverboards from flights.
Overstock.com, another major retailer, has also removed hoverboards from its site.
What do you make of Amazon's decision to remove most hoverboards from the site? Comment below or tweet me @MNetAbbey.