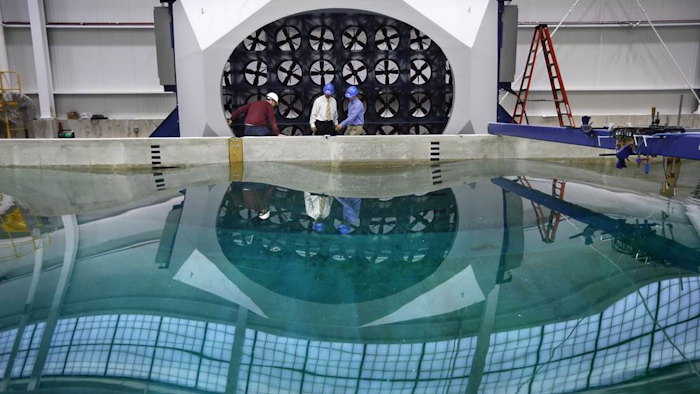 With more news coming out all the time about harnessing our oceans' power to create electricity, a few questions keep popping up: How do they handle waves and wind? What about hurricanes?
The University of Maine's new $13.8 million indoor ocean — housed in the Advanced Structures and Composites Center — will answer these questions. The facility is a testing ground to ensure maritime structures such as oil rigs and floating wind farms can stand up to the elements.
Shrunken-down models of prospective seafaring structures — which are one-fiftieth of their actual size — are be placed in the 100-foot pool. Then, the 32 fans and 16 wave-producing paddles are fired up to see how the model holds up.
The pool can simulate waves of more than 100 feet and winds of over 200 miles per hour.
"It's really advancing society by better understanding the ocean, the way things survive in the ocean," said Hadid Dagher, director of the center, in an interview with the Associated Press. "There's no facility that can do this right now."