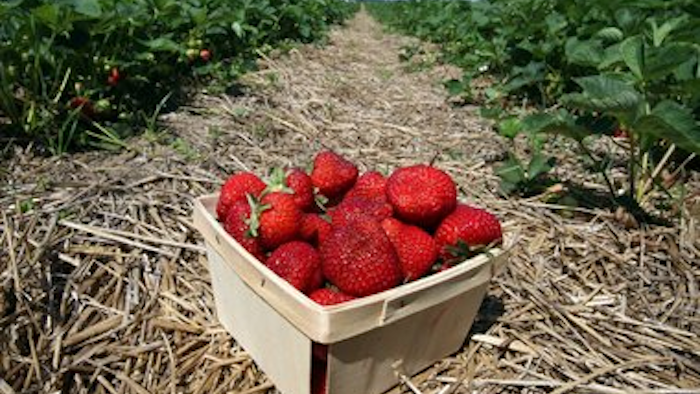 Automated harvesting is the Holy Grail for most agricultural commodities, so a group of knights errant from the Florida strawberry industry have begun a quest to build a robotic strawberry picker.
Previous attempts at developing a strawberry picking machine required growers to change the way they grow the fruit, such as moving production indoors, to accommodate the technology, said Gary Wishnatzki, CEO of Wish Farms, a Plant City grower and packinghouse.
"I charged our engineers with the task of creating a picker that does not require growers to radically change the way they currently grow," Wishnatzki said. "That is the major reason other robotic harvesters have not yet been commercialized."
Wishnatzki and Bob Pitzer, a mechanical engineer, founded Harvest Croo Robotics in 2013 with seven other investors among Florida and California strawberry growers, who raised $1 million in seed money. The investment yielded its first fruits with a working robotic harvester successfully tested earlier this year.
For strawberries and many other fruit and vegetable commodities, the incentive to move to automated harvesting is plain and immediate — the labor pool of human pickers, mostly undocumented immigrants, continues to shrink.
"It's well documented the labor force has been shrinking over the last decade. It's a trend that's not likely to reverse itself," said Wishnatzki, a member of the third generation of his family's Florida produce business. "It's not just Florida; it's a national problem."
Wishnatzki and Pitzer had worked previously on high tech projects, including designing and building a successful coded labeling system that can trace a package of strawberries from supermarket back to the picker, they said. The inspiration to form Harvest Croo began several years ago, when Wishnatzki discussed the labor problem with Pritzer.
"When we first started talking about it, I had no concept of what it would look like," Wishnatzki said. "(Pitzer) is the kind of guy who looks at a problem, looks at it creatively and comes up with a solution."
Accepting the mandate that the system would not force Florida strawberry growers to radically alter current production practices, Pitzer began by going into local strawberry fields and observing how pickers worked.
"People don't realize how efficient humans are at doing things," said Pitzer, Harvest Croo's chief technology officer. "The challenge was how to make all those (machine) movements as efficient as possible."
Technology in other industries had already solved some of the problems in building a robotic picker, such as safely handling fruit as delicate as a strawberry, the entrepreneurs said.
Industries from chocolate makers to computer chips had already solved that problem.
The prototype uses commercially available vision sensors and software that enable the machine to recognize only ripe strawberries ready for picking, Pitzer said. A single strawberry plant will also have other immature fruit.
"The most critical issue is speed, which is related to costs," said Manoj Karkee, an assistant professor of biological systems engineering at Washington State University who is also working on automated harvesting systems. "If it is too slow ... it will be too expensive to operate."
The goal is to have the robot pick one strawberry plant, which could have three to five ripe fruit, in five seconds, Pitzer said.
The first prototype is already close to that speed, he said.
The goal among other robotic harvesting researchers is picking one piece of fruit per second for each mechanized arm, Karkee said, and it sounds like the Harvest Croo system is close to that.
"That's a good speed. I'm not saying whether that's economical or not," said Karkee, who has not worked with or examined the Harvest Croo system.
Another challenge is building a machine that can run continuously and autonomously for a whole day.
The strawberry picker has a modular design so that any breakdowns can be repaired by unplugging and replacing damaged parts, Pitzer said.
The current prototype can successfully pick strawberries, Pitzer and Wishnatzki said, and the next version scheduled for testing in the 2015-16 season also will have a system for packing it, ideally in a plastic clamshell container ready to be moved to a cooler for shipping to a supermarket.
It will take several more years of experimenting before a robotic strawberry harvester is ready for commercial use, Wishnatzki said, but "we're confident we're going to get there."