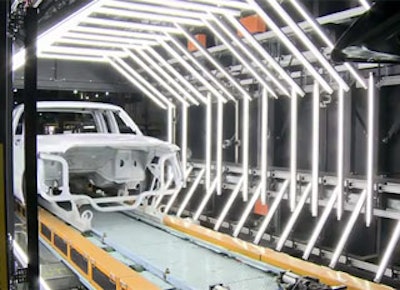 Dearborn, Mich. (Manufacturing.net) — Ford Automotive has unveiled what it says is an industry-first detection technology that uses high-resolution cameras to detect and eliminate dirt particles on a freshly-laid coat of paint. The company's F-Series trucks are the latest vehicles to benefit from the technology, which Ford claims can detect particles smaller than a grain of salt.
The system takes microscopic scans of every painted surface on the vehicle, using varying degrees and angles of light to identify dirt and other irregular paint conditions. 3,150 images are captured for every vehicle, in a short 15-second window, which are then stitched together into a full 3D image that is compared, at a very fine level, to a "perfect" computer model. In the past, the company inspected paint and surfaces with the human eye alone. Now, the system automatically alerts operators where to polish and buff out imperfections.
And it seems to be working — Ford says paint quality is better than ever, and customer complaints were reduced by 82 percent within one year.
A video of the process is embedded below:
Tom Dougan, project manager, global paint applications at Ford, says, "The operators used to spend 70 percent of their time searching the vehicle over, maybe finding something, maybe not. Now, they're able to focus 90 percent of their time on polishing the vehicle and making sure it meets our standards for quality."
Right now, the technology is being used in three Ford assembly plants — in the Valencia Assembly Plant, the Dearborn Truck Plant and the Kentucky Truck Plant — which are responsible for building the Ford C-MAX, F-Series, Expedition and Super Duty lineups. The company plans on rolling out the technology to the Louisville Assembly Plant, Chicago Assembly Plant and Oakville Assembly Plant this year, and two more in 2014. By then, almost all of the company's vehicles, include the Escape and Mustang, will be observed by the system.