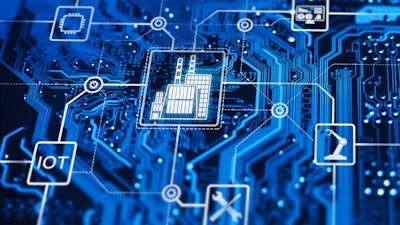 For centuries, the textile industry has provided a rich source of metaphors for complex human endeavors. I know as my grandparents worked on servicing looms in original mills on New England's rivers. Its extensive range of materials, tools, processes, and products resonate closely with the intricacies of social, cultural, and industrial activity. People talk of 'spinning a yarn,' 'weaving' spells, 'hanging on by a thread,' and how human efforts can become 'frayed,' 'ripped,' 'tattered,' or 'shredded.'
So, it's no surprise that the leading edge of manufacturing today would find an appropriate simile in textiles as well. But like other powerful metaphors, textile images are more than simply ornamental uses of language. They advance our understanding of complexity by providing visual proxies for phenomena that are real but cannot be observed directly.
In discrete manufacturing, one of the most important of those metaphors today is the "digital thread" – a way to visualize the sequence of steps that a product passes through from cradle to grave. It specifically refers to formulating a communication framework that captures all the necessary data to create an integrated, comprehensive view of the factors that are part of a product's lifecycle.
Untangling Your Digital Threads
While that sounds fairly straightforward, it can be maddeningly difficult to implement. One reason is that in most organizations, information tends to be housed in separate silos corresponding to the different functions affecting a product. Data related to design, procurement, labor, equipment, inspection, delivery, service, finance, and more, are each housed with the units responsible for those functions. And it is typically structured in ways distinctive to each department that either owns or uses it.
In the industrial environment of the recent past, that sort of segregation made sense. After all, Maintenance and Marketing don't have a whole lot in common. But for companies transitioning into the Industry 4.0 model of connected smart technologies, silos don't work. That's because the emerging model looks to orchestrate and optimize all the digital and physical processes affecting a product across the entire organization and value chain. And that's impossible to accomplish if paper-based processes remain anywhere in the loop.
At the same time, however, with the disparate systems and procedures that characterize most industrial organizations, there are also likely to be multiple digital threads. To orchestrate the company's overall operations, it is now necessary to interface, interconnect, and weave those threads into a cloth that breaks down physical and process barriers. This objective is not limited to just within the firm's internal stakeholders – it also extends to its outside partners.
But, as in the world of traditional textiles, different cloths have different applications. Sail cloth, for example, would be sadly out of place in lingerie. As a result, it is essential to have a good design in mind for the way things are to be woven together. This strategy means having the right technology to build, manage, and maintain your digital cloth, along with a knowledgeable partner to help keep the fabric from unraveling.
The Fabric of Industry 4.0
By the same token, every commercial system involves multiple players and functions. From tier two and three suppliers through to OEMs and their end-users, Industry 4.0 requires digital continuity to make integrated design, manufacture, and support possible. It also requires an open system solution to ensure that the right data is made available across different vendor systems, otherwise, your Industry 4.0 strategies will never reach their full potential.
That need is especially acute in the production of complex products such as military aircraft, where there can be hundreds of unique digital models associated with each component, device, subsystem, or metasystem of the aircraft.
Digital models are commonly referred to as "Digital Twins." They are essentially virtual representations of physical products (or processes) that enable managers to foresee trouble spots as well as opportunities to improve how a product is built (or how a process is optimized). But just as there are typically several digital threads in a manufacturing facility, there is also an assortment of digital twins – perhaps even digital triplets, quadruplets, or higher.
Organizations operating without digital consistency amongst all these twins will struggle to build the right product with the right material in the right way.
Weaving the tangle of digital threads into a coherent digital cloth that provides a virtual simulation of physical products and processes requires having a pattern in mind – one that can help determine which threads to select, who the end-users will be, and how it will be applied. It is a task that requires the right loom – a platform that can verify that the digital thread has been woven correctly. It is a task that advanced manufacturing solutions, such as those built specifically to address this challenge.
Regardless of whether a single or multi-vendor approach is selected, it is essential to know ahead of time where you want the process to end up. As with every other voyage, if you don't know your destination, you won't head in the right direction, and you'll likely end up needing a lot of stitches.
Tom Hennessey is the VP of Marketing & Business Development at iBASEt.