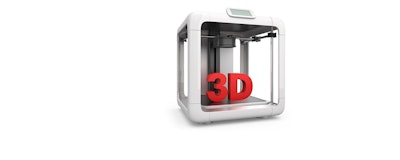 Self-driving cars are set to transform the automotive industry. But major changes have already been taking place in automotive manufacturing thanks to 3D printing. Additive manufacturing (AM) is paving the way for new car designs, lower costs and shorter production times. In a scenario offered by 3DPrint.com, using 3D printing, consumers would be able to order a car online, which could be designed to their own specifications, and have it shipped in less than two days.
While the industry isn't ready yet to offer on-demand cars, it is already showcasing next-generation models based on AM. Notable among them is a functional 3D printed model of the class Shelby Cobra sports car, made up of 20 percent carbon fiber and 80 percent thermoplastic resin. Printed at the Department of Energy's Manufacturing Facility at Oak Ridge National Laboratory (ORNL), an estimated 75 percent of the vehicle's parts are produced by additive manufacturing.
The 3D Shelby Cobra model incorporates "plug and play" components, including a new engine, battery, fuel cell technologies; hybrid design systems; and power electronics and wireless charging systems. It allows ORNL researchers to quickly test out innovative ideas in a "driving laboratory."
Additive manufacturing offers a promise of a range of new vehicles for public transport as well. Last year Arizona automaker Local Motor debuted Olli, a crowdsourced primarily 3D printed, self-driving electric shuttle bus outside Washington, DC. This year, Deutsche Bahn, the German railway company plans, began testing Olli under a pilot project in Berlin.
Also according to Engineering.com, most of Olli is actually glass and the chassis is made of aluminum and steel, but Adam Kress, director of public relations and content for Local Motors, explained that the fenders and much of the interior are 3D-printed. The company also 3D printed molds for many other elements within the vehicle.
The Shelby Cobra and Olli provide a glimpse into what's coming down the road in 3D printed car and vehicle fleet design. However, there are several current applications for 3D printing in the automotive industry today. In its recent report on "Additive Manufacturing Opportunities in Automotive – 2016," SmarTech Publishing estimates the 3D printing automotive market will reach $2.3 billion in 2021 from its current $600 million.
Rapid Prototyping
For some years now, rapid prototyping has been helping automotive manufacturers to cut down lead times for designing new cars or updating current models. The use of 3D manufacturing means auto manufacturers can test a variety of prototypes before production. Ford says that prototype parts can be built in days or hours, versus months, at far less cost than using traditional methods since 3D printing eliminates the need for tooling and molds.
Production Tooling
In "3D opportunity in the automotive industry," Deloitte University Press describes how that AM is enabling the fabrication of customized tools to boost shop floor production. It cites the use of AM by BMW in direct manufacturing to make hand tools that are used in test and assembly. BMW reported the customized tools helped save 58 percent in overall costs. It also reduced project time by 92 percent.
Parts Production
The use of metal as a printing material is still in its early stages. Audi, as one example, is using 3D to produce the metal water pump wheel of its DTM racecar, which replaces a previously plastic part. The German car manufacturer is also using the technology to produce spare parts and in turn disrupt the supply chain.
The current method of dealers ordering parts from a central location is costly and time consuming. While Audi hasn't as yet implemented 3D printing across its entire part catalog, by virtue of placing 3D printers around the globe it is able to print certain parts on demand. Besides benefiting the customer, the process is eliminating the over production of certain parts.
Continuous Parts Improvement
The use of 3D printing in the automotive industry doesn't begin and end with the printed part. As manufacturers embed tracing marks and sensors into the product, they will be able to track every step of a product lifecycle from initial 3D object scan to design through production, quality measurement, delivery and real-world use. Using in-lifecycle information, manufacturers can improve the design and fabrication of future parts.
The potential for a continuous improvement cycle becomes huge as the entire manufacturing process moves seamlessly from physical to digital and back to physical to create a "blended reality." Manufacturers will be able to improve auto parts based on their performance or use and even modify them for weather and travel patterns.
The use of 3D printing for automotive manufacturing is leading to new levels of innovation. With its potential for customization and convenience, 3D will put consumers in the driver's seat.
Christoph Schell is President of the Americas (USA, Canada and Latin America) for HP Inc.