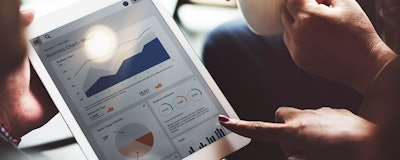 When it comes to digital technologies, manufacturers know they've got to "give" in order to "get." After years of emphasizing cost-saving programs to drive lean operations, manufacturers are now focused on propelling outsized top-line results by investing in digital technologies.
That's one of the key findings of our recent study, The Work Ahead in Manufacturing, in which we surveyed 2,000 executives globally, including 500 senior executives from the consumer and industrial products spaces. Respondents reported that digital initiatives have actually increased manufacturing costs by one percent during the last year. As time goes on, respondents expect costs to decrease but only by a mere 0.7 percent.
On the other hand, study respondents have already seen digital investments boost revenues by 5.4 percent and expect that to improve to nine percent by 2018. Extrapolated to the entire global manufacturing industry, that means digital will drive almost 25 percent additional growth in the $13 trillion manufacturing sector worldwide by 2018. And by 2020, 78 percent of respondents believe more than 20 percent of their revenues will originate from digital channels, up from just 30 percent of respondents today.
Makers Find New Digital Routes to Market
The implications of this shift are dramatic. Traditional manufacturing has always focused on getting products and parts crafted, fabricated, stored, moved and distributed to the right place at the right time. Today, however, tech-savvy customers demand more than "better stuff" and gimmicks — they seek experiences that inform, inspire and bring meaning to their lives.
Whether it's Levi's shifting from being "just a jeans company" to a branding juggernaut, Ford Motor Co. rethinking the future of cars as "mobile communications platforms," or GE's relaunch as a "digital industrial company," the signs of manufacturers' metamorphoses are everywhere, and they're making past approaches suddenly seem old, creaky and unresponsive.
One driver of change is 3D printing, which is spurring the emergent trend of so-called "maker-artisans" in diverse locales worldwide, presaging a near-term future of "what you want, when you want it" manufacturing. Imagine goods produced by local, bulk 3D printing capabilities and a collective of skilled "finishers" that apply a final-polish, small-batch or artisanal stamp to the goods, to add a unique, personal touch.
Another driver is embedded sensors and the Internet of Things (IoT). According to our study, sensors and IoT stand as the pre-eminent digital technologies affecting the manufacturing sector by 2025. Smart, connected products means more data, and as manufacturers apply analytics generated from these technologies, they will break down barriers between products, customers, retailers, wholesale partners and suppliers, and create more connected and personalized experiences.
With digital innovation, the days of top-down, "you'll-get-what-we-give-you" mass production are giving way to co-creation processes that deploy crowdsourcing techniques to improve products via open collaboration platforms that encourage innovation and yield highly personalized products built for markets of one. The work ahead for all participants in the physical and digital manufacturing realms will be to strengthen, cultivate and coordinate the ecosystem of partners in an interconnected world of intelligent embedded systems that produce meaningful products, services and experiences for customers.
Getting Ready: Filling Skills Gaps
At the same time, our data also shows that digital will cause work to require greater technical expertise, as manufacturers need increasingly sophisticated ways of seeing the bigger picture of their business, in order to adapt and respond to demand volatility. This is at a time when the U.S. manufacturing industry faces skills shortages. Clearly, automation will be a critical remedy. Manufacturers — quickly — need to launch active programs around systems of intelligence that lead to more human-robotic collaboration.
Automated systems, in concert with manned systems, will create new outcomes by better integrating all participants — suppliers, partners, materials scientists, machinists and heads of safety — through digital approaches. Robots and other autonomic systems are already working alongside humans on modern manufacturing floors rather than being contained in "just designed for robots" floors. A great example is the Airbus factory, in which robots are strapped to the side of fuselages, riveting thousands of holes, with operators "piloting" the robots.
The instrumentation of smart factories will also spur a surge in the need for analytics skills by 2020 (named by 75 percent of study respondents). Employees with analytics skills will bring premium assets to manufacturers in multiple ways, such as supply chain optimization, product quality and asset optimization. As manufacturers ramp up their IoT initiatives on the shop floor, an explosion of analytics-driven optimization is just around the corner.
Lastly, our respondents anticipate dynamic growth in demand for design skills. This trend underscores the coming impact of 3D printing and additive manufacturing and the redoubled attention to the "maker culture" we're already seeing in the future of work and work processes.
Whether you're a producer of consumer durables or industrial goods, the future of manufacturing isn't just about using new technologies to design and make physical products. It's about leveraging the power of digital to create more connected and personalized experiences for customers. Our new research points to the onset of a new thinking in manufacturing — one that shuns the abundance of "cost-plus" offerings and heralds the coming of an "experience-centered" strategy. Clearly the investment landscape is preparing to take more creative risks and opportunities — all made possible by the digital revolution.
Robert H. Brown and Prasad Satyavolu are both with Cognizant.