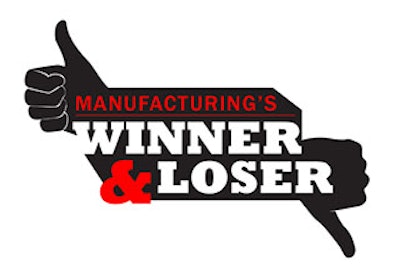 Over the past week the manufacturing sector has experienced no shortage of news. From continued strikes to massive recalls — the news has run the gamut. However, after sifting through it all this week the titles of Manufacturing's Winner and Loser go to SpaceX and Halliburton, respectively.
Winner
"Third time is the charm" couldn't have been a more accurate statement for Southern California aerospace company, SpaceX this past week. After trying unsuccessfully to launch an observatory into deep-space twice, the company finally succeeded on February 11, making them this week's winner.
The observatory — now nicknamed DSCOVER — will provide information about solar flares and incoming geomagnetic storms as well as send back continuous footage of the sunlit side of the Earth as it travels approximately 1 million miles over the space of four months. The snapshots expected from DSCOVER will be the first photos of the entire plant with its full face illuminated by the sun since NASA's final Apollo landing in 1972.
"Just months from now, DSCOVR will turn its gaze toward Earth and send back critical data on our planet's health," said former Vice President Al Gore.
To see other successful launches by SpaceX check out this video.
Loser
On Tuesday Halliburton announced that they will be laying off between 5,000 and 6,500 employees, amounting to approximately 8 percent of their workforce, as a result of the falling oil and gas prices — sadly earning them this week's losing nod.
When the cuts were announced a Halliburton spokeswoman issued a statement saying, "We value every employee we have, but unfortunately we are faced with the difficult reality that reductions are necessary to work through this challenging market environment."
The cuts will be coming from all areas of operations, but the company attests that they are necessary in the declining market.
What do you think?
Do you think that these were the right 'Winner' and 'Loser' for the week? If not, who would you have chosen and why?
Please leave your comments below.
ENTRIES OPEN:
Establish your company as a technology leader. For 50 years, the R&D 100 Awards, widely recognized as the "Oscars of Invention," have showcased products of technological significance. Learn more.