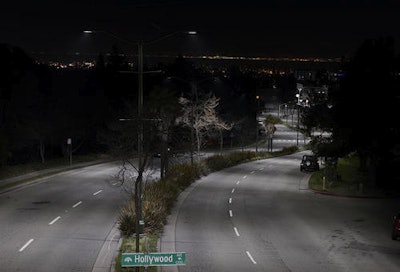 It's the afternoon rush hour just outside central London and the traffic is nose to tail. Drivers here have come to expect the sight of taillights as far as they can see. One section of road, a stretch of the A3 close to Heathrow Airport, has been named Britain's most congested road and has holdups totaling 91 hours during the afternoon rush each year.
The British capital isn't an isolated case. Drivers across Europe's 10 most jammed up cities spent 63 hours on average stuck in traffic last year, and cars in New York, Los Angeles and other big American cities didn't fare much better. Annual congestion costs are expected to double to $231 billion in the U.K., U.S., France and Germany by 2030, according to data gathered by INRIX.
Sure, Google Maps helps, but the solution to the problem could come from an unexpected source – the streetlight. Lighting and software engineers are working on a breed of new LED lights containing sensors that gather traffic data. They could help drivers avoid busy roads and intersections, and ease congestion.
App developers could use data from the sensors to build new online services and make cities more efficient. They could improve public transportation by sending more buses to areas congested with pedestrians, or make parking more efficient by sharing real-time location of nearby empty spaces.
San Diego, for example, is working with a GE team on designing and installing a network of charging outlets that could boost the use of EVs. In Bristol, U.K., the City Council has already opened up traffic management, land use and other data sets to the public.
"We have computational power that is unprecedented," says Agostina Renna, president and CEO of GE Lighting for Europe, Middle East and Africa. "By virtue of software and analytics, you're able to take reams and reams of data, extract from that data insight and transform that data into action – whether that's automated action or action driven by people that in turn drives productivity."
The LEDs are building on technologies already helping cities reduce their electricity bill by dimming outdoor lights when there is nobody around. San Diego in California, Phoenix in Arizona, and Budapest, Hungary, for example, are using smart LED street lights that automatically adjust their brightness. In Europe, Balatonfured, one of the most popular vacation destinations in Hungary, replaced its traditional streetlights with smart LEDs and cut its energy costs by more than a half.
But that's just the beginning. Cities can also use lampposts to increase broadband coverage in remote areas, and link up with a networked ecosystem of solar panels, batteries, weather sensors and smart meters to build a truly "bright" lighting system.
GE recently organized a roundtable discussion where speakers shared case studies from Copenhagen, Bristol, Glasgow and elsewhere about their smart lighting applications.
Smart LEDs could make living and driving in cities less stressful. They could also make cities greener.
For more stories like this one, visit GE Reports.